Mexico Tours & Vacation Packages 2023/2024
Save up to 40% on Mexico Tours & Vacation Packages 2023/2024
Mexico Travel Guide
Mexico is home to beautiful cities, beaches, food, and ruins. Plus, there is so much rich culture in Mexico, no matter where you look. If you're lucky enough to be visiting Mexico on a tour, you'll have a guide with you who will show you everything from the must-see spots to the hidden gems that you'll be happy you found. With tour operator volume buys plus our low everyday prices you can save up to 40% versus assembling the same itinerary on your own! Book your Mexico tour today with AffordableTours.com, your discounted tour headquarters. View Mexico Tour Deals and Discounts
Mexico Travel Guide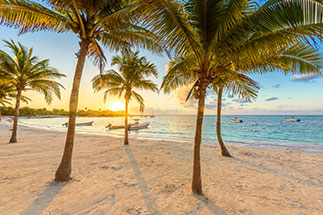 Showing 1 - 20 Tours
Tour Itinerary
Days
Operator
Quality
Style
Starts
Ends
Price



Mayan Trail

2 reviews
11

Days

G Adventures

Budget

Escorted
2 - Classic

12+ years old
16
Playa del Carmen
Antigua
Guatemala, Mexico
$1,236View Tour

Best Price Guaranteed

Book With Flexibility

Highlights of the Yucatan

08

Days

G Adventures

First Class

Escorted
2 - Classic

12+ years old
16
Playa del Carmen
Tulum
Mexico
$1,299View Tour

Best Price Guaranteed

Book With Flexibility

Mexico's Magical Colonial Cities 2024

09

Days

Globus

First Class

Escorted
1 - Light

8+ years old
Mexico City
Guadalajara
Mexico
$3,739View Tour

Best Price Guaranteed

Book With Flexibility

Mexico's Magical Colonial Cities 2024 - Small Group

09

Days

Globus

First Class

Escorted
1 - Light

8+ years old
24
Mexico City
Guadalajara
Mexico
$3,929View Tour

Best Price Guaranteed

Book With Flexibility

Cancún Escape: Beaches, Cenotes, & Crystal-Clear Water

04

Days

G Adventures

First Class

Escorted
Cancun
Cancun
Mexico
$239View Tour

Best Price Guaranteed

Book With Flexibility

Classic Mexico Adventure

2 reviews
14

Days

G Adventures

Budget

Escorted
2 - Classic

12+ years old
16
Mexico City
Playa del Carmen
Mexico
$2,299View Tour

Best Price Guaranteed

Book With Flexibility

Central Mexico & Yucatan: Mexico City, Oaxaca, Oh Yeah

13

Days

G Adventures

First Class

Escorted
Mexico City
Tulum
Mexico
$1,699View Tour

Best Price Guaranteed

Book With Flexibility

Yucatan & Cancún: Merida, Mayan Ruins, & Beachside Livin'

09

Days

G Adventures

First Class

Escorted
2 - Classic

18 - 35 years old
24
Merida
Cancun
Mexico
$779View Tour

Best Price Guaranteed

Book With Flexibility

Yucatan Adventure: Merida, Tulum & Jungle Swims

06

Days

G Adventures

First Class

Escorted
2 - Classic

18 - 35 years old
24
Merida
Tulum
Mexico
$524View Tour

Best Price Guaranteed

Book With Flexibility

Mexico City to Oaxaca: Pottery & Aztec Pyramids

07

Days

G Adventures

First Class

Escorted
2 - Classic

12+ years old
16
Mexico City
Oaxaca
Mexico
$1,099View Tour

Best Price Guaranteed

Book With Flexibility

The Most Mexico: Central Mexico, Yucatan & Cancún

16

Days

G Adventures

First Class

Escorted
2 - Classic

18 - 35 years old
24
Mexico City
Cancun
Mexico
$2,005View Tour

Best Price Guaranteed

Book With Flexibility

Viva Mexico: Ancient Ruins & the Mayan Riviera

14

Days

G Adventures

First Class

Escorted
2 - Classic

18 - 39 years old
18
Mexico City
Tulum
Mexico
$1,599View Tour

Best Price Guaranteed

Book With Flexibility

Essential Central Mexico

09

Days

G Adventures

First Class

Escorted
2 - Classic

12+ years old
16
Puerto Vallarta
Mexico City
Mexico
$1,143View Tour

Best Price Guaranteed

Book With Flexibility

Mayan Encounter

4 reviews
12

Days

G Adventures

Budget

Escorted
2 - Classic

12+ years old
16
Antigua
Playa del Carmen
Belize, Guatemala, Mexico
$1,656View Tour

Best Price Guaranteed

Book With Flexibility

Mayan Discovery

1 reviews
15

Days

G Adventures

Budget

Escorted
3 - Explorer

12+ years old
16
Playa del Carmen
Playa del Carmen
Belize, Guatemala, Mexico
$1,499View Tour

Best Price Guaranteed

Book With Flexibility




9 Day Colonial Mexico

12 reviews
09

Days

Gate1

First Class

Escorted
Mexico City
Guadalajara
Mexico, United States
$1,649View Tour

Best Price Guaranteed

Book With Flexibility




8 Day Central Mexico with Oaxaca

6 reviews
08

Days

Gate1

First Class

Escorted
Mexico City
Oaxaca
Mexico, United States
$1,649View Tour

Best Price Guaranteed

Book With Flexibility

Mayan Adventure: Mexico, Belize & Guatemala

22

Days

G Adventures

Budget

Escorted
2 - Classic

12+ years old
16
Playa del Carmen
Playa del Carmen
Belize, Guatemala, Mexico
$2,423View Tour

Best Price Guaranteed

Book With Flexibility




Day of the Dead in Mexico City

06

Days

G Adventures

Budget

Escorted
2 - Classic

12+ years old
80
Mexico City
Mexico City
Mexico
$1,149View Tour

Best Price Guaranteed

Book With Flexibility

Central Mexico: Puerto Escondido, Mexico City & Epic Mountain Views

08

Days

G Adventures

First Class

Escorted
18 - 35 years old
24
Mexico City
Puerto Escondido
Mexico
$703View Tour

Best Price Guaranteed

Book With Flexibility
Mexico Travel Guide
Mexico Tours Highlights
See the iconic Chichen Itza on the Yucatan Peninsula.
Relax in Tulum, home to the best beaches and luxury resorts.
Scuba dive in Cenote Dos Ojos.
Visit historical Teotihuacan.
Check out the ruins of Palenque.
Spend time in the beautiful city of Guanajuato.
Walk around the breathtaking Izamal.
Go snorkelling in Cozumel.
Adventure to the pretty town of Puerto Vallarta.
Spend time in the tranquil Playa del Carmen.
Take a train ride through the Copper Canyon.
Mexico Tours Travel Tips
Always try to pay in pesos because you'll get a better deal than you would if you were to pay in United States dollars.
When you visit Mexico, your border control officer will put a slip of paper inside your passport. This isn't something you want to lose, because you will have to show it to border control again when you leave. Make sure to keep track of this paper!
Try to see at least one cenote. They are beautiful caves and underground swimming pools that are truly breathtaking. Each one is incredibly different, so try to see a few of them if you can.
If you see a bathroom marked with an M, it's for women! That's because the word mujeres is women in Spanish. Don't make the mistake of thinking that it's for men!
Go out and explore more than just the beaches! Yes, the beaches in Mexico are gorgeous, but there are loads of beautiful cities, ruins, and natural parts of Mexico worth visiting.
Mexico Tours Things To Do
Spend time in Playa del Carmen

Playa del Carmen is a great resort city located right on the coast of the Yucatan Peninsula. It's home to beautiful coral reefs, beaches, and other places to relax. Plus, there are many places to shop, dance, and eat! This place is extremely family-friendly as well. The best place to explore in Playa del Carmen is Fifth Avenue. This is a long walking street lined with many different stores, cafes, restaurants, and more. The promenade is always beautifully decorated too, which only adds to the atmosphere.

You Should Know

The water isn't safe to drink here, so make sure you purchase water bottles throughout the day.

Check out the Palenque ruins

Palenque is an ancient city dating back to 226 BC! It was home to a thriving group of citizens until the 7th century, and then it unfortunately declined and deteriorated over the years. Today, it's a vast set of ruins that is popularly visited by history lovers. The Palenque ruins are one of the best places to see if you're interested in learning more about Mayan history. Plus, the architecture is divine and incredibly unique. What makes these ruins impressive is that everything was initially created without any modern tools we have today.

You Should Know

You absolutely must wear good walking shoes and sunscreen when visiting the ruins because you'll be doing lots of walking.

Relax in Tulum

Tulum is one of the top-rated coastal towns to visit in Mexico, and for a good reason. It's right on the coast of the Caribbean and is on the Yucatan Peninsula. It's home to Mexico's best beaches and was historically a popular trading port for the Mayans. Some of Tulum's best beaches to check out include Tulum Beach, Playa Pescadores, and Las Palmas Public Beach. In addition to the beaches where you can relax, try to see El Castillo and some of the cenotes in the area, which are truly breathtaking.

You Should Know

Tulum is often known as one of the more expensive places to visit in Mexico, but it can be cheaper if you stick to a predetermined budget.

See the iconic Chichen Itza

Chichen Itza is one of the most-visited ancient Mayan ruins in Mexico. It's believed to have been built around AD 600 or earlier and was home to the largest Mayan city and the most diverse. If you only have time to visit one set of Mayan ruins when you visit Mexico, make sure that it's Chichen Itza. The architecture is a combination of Central Mexico and Mayan elements, which only adds to its allure. Though some of the city parts are entirely in ruins now, a few buildings have luckily still stood strong through all the years.

You Should Know

Make sure you dress for the weather because most of Chichen Itza is exposed to the sun (or rain, if it's raining!). Try to visit earlier in the morning to avoid the crowds. Chichen Itza is one of the top places to visit in Mexico and is known for being overcrowded.

Visit Teotihuacan

Teotihuacan is another archaeological spot in Mexico, but this one was a city for the Aztecs, not the Mayans. This UNESCO World Heritage Site is believed to have been built in 400 B.C. or maybe even earlier. Seeing Teotihuacan allows visitors to see the fantastic Aztec architecture and how it differs from the Mayan's. This city is only a short drive away from Mexico City. Some of the top spots to see at Teotihuacan include the Temple of Quetzalcoatl, the Pyramid of the Sun, and the Pyramid of the Moon. A museum was later added, which provides more of an in-depth look into the city's history.

You Should Know

Teotihuacan is open daily, year-round. Many places close on Mondays in Mexico, but this ancient city is not one of them.

Scuba dive in Cenote Dos Ojos

A cenote is essentially a cave and swimming hole that has beautiful blue water. The Cenote Dos Ojos is a famous 391-foot cenote right on the Yucatan Peninsula's Caribbean coast. It's a fun spot to go swimming, but it's even more well-known for its diving. The words "Cenote Dos Ojos" means "Two Eyes Cenote," which is evident by the fact that this cenote is essentially two different cave sinkholes that are linked together. There is a lot of natural light here and some breathtaking underwater views, so if you're feeling adventurous, don't miss out on this experience.

You Should Know

If you haven't been diving before, there's no need to worry. You can quickly learn how to from the instructors.

Walk around Izamal

Izamal is a tiny, often-overlooked city in the middle of Mexico. The town dates back to Mesopotamian times but became more like the city that it is today during the late 19th century. It's home to ruins, shops, cafes, and more. What makes Izamal so unique is that the entire city is painted yellow! Everyone who lives here is so incredibly happy, and it's located only a short ways away from both Tulum and Cancun. When you visit, be sure to stop by the Convento de San Antonio de Padua, a 16th-century monastery constructed on top of the spot where a Mayan temple once was.

Best Time To Visit

Visiting Izamal at any time is great because it's never overly-busy. It's a hidden gem that you'll be glad you visited

Adventure to Puerto Vallarta

Puerto Vallarta is a fun, coastal resort town on the western coast of Mexico. It's home to some of the country's best nightlife, beaches, and water sports. Plus, there are many unique restaurants, quirky shops, and incredible views. One of the top spots to visit here is the Marietas Islands, which is perfect for a half-day trip. Other great places to not miss out on include Malecon Puerto Vallarta, Los Muertos Beach, and Las Caletas. For architecture, check out the Parish of Our Lady Guadalupe.

Best Time To Visit

The best time to head to Puerto Vallarta is between April and June. Prices are relatively affordable during this time, and the weather is only slightly colder than the temperatures experienced during the summer in Mexico.

Spend time in Guanajuato

Guanajuato is a colorful city located in the middle of Mexico. It's famously visited for being home to some of the country's most exciting and exciting architecture. There are also many tiny alleyways, such as the Alley of the Kiss, and local art galleries. Some must-visit places in Guanajuato include the Callejon del Baso, Monumento al Pipila Guanajuato, and the Museo Casa Diego Rivera. One of the best ways to explore Guanajuato is by tour, so if Guanajuato is on your list, you'll have an unforgettable experience.

You Should Know

Guanajuato is best explored with at least two days or more to experience the city fully.
Mexico Tour Packages
There is no best time to visit Mexico because the country experiences excellent weather year-round. Of course, it is possible to plan your Mexico tour experience around the busiest times, if you want to avoid the crowds. Not many people visit in the winter, which is part of Mexico's dry season. Learn more about what it will be like to visit during each season as a tourist below.
Spring and Fall - September to November and March to May - Shoulder Season

The shoulder season is often a safe time to visit because the weather is warm, and there aren't many crowds. Plus, the prices for accommodations won't be super high either generally since there aren't many visitors. Depending on where in Mexico you plan on visiting, you'll find that the weather during this time tends to be between 70°F to 85°F.

Summer - June to August - High Season

Most people visit Mexico during the summer because it's so warm to soak up the sun on the beaches. The temperature during this time is usually around 90°F, though it varies depending on where you are. Prices are highest during this time because there are so many visitors to the country, and tourist attractions are often very hot and overcrowded.

Winter - December to February - Low Season

The least amount of people visit during the winter, even though it's the country's dry season! The weather usually is around 70°F, which is still quite beautiful and is excellent for exploring ancient ruins and relaxing on beaches. Prices will be at their lowest during this time, a huge pro to visit in the winter.
Mexico Tours Frequently Asked Questions
What are Mexico tours?

Mexico tours are perfect for you if you don't like the struggle of planning out all of the logistics and small details of your itinerary when going on a vacation. With Mexico tours, every step of the way is planned out for you, including transportation, accommodation, and even some meals! Honestly, all that you have to do is hop on the plane and then enjoy your experience. Most of the Mexico tours have a high emphasis on visiting archaeological and historical sites and the many incredible cities throughout the country. If you wish to see the beaches or go scuba diving, you may want to consider lengthening your visit to Mexico to stop by the coastal regions to relax on your own after your Mexico tour.

What's included on a Mexico tour?

Most Mexico tours will include a tour director, accommodation, some meals throughout the trip, and a detailed itinerary. The majority of tours will also include transportation, even picking you up from the airport to help you get to the first stop on your itinerary! Many tours also have other inclusive perks, but you'll have to do your research to see if the tour you're interested in includes those. These can include things such as skip-the-line tickets or special tours with locals. Your tour will also include stops in some of the most popular places to visit in Mexico, such as the highlights that were listed above. Other great sites to see that you might find yourself during your trip include places like Mexico City, the Metropolitan Cathedral, etc.

What's the best Mexico tour?

Because each Mexico tour is different, there isn't one that's better than another. You'll have to do your research to see which Mexico tour best fits your budget, your vacation length, and the places that you'd like to tick off your travel list. If you find that you're having trouble finding which tour is best for you, don't hesitate to call our cruise experts.

How much do Mexico tours cost?

Every Mexico tour has a different cost depending on length, price, and places visited. Some of the tours cost as little as $90 a day, but they also go up in price. The great thing is that if you book through Affordable Tours, you're guaranteeing a lower price than you'd have if you were to book the same exact cruise elsewhere.
Learn More About Mexico Tours
Reviews for Mexico Tours and Vacations
Very happy with the entire trip!
Flavia D
Was a good budget trip.
Brenda M
Our guide, Manuel, was outstanding.
Peter G
Departure
Lengths
Styles
Specialities
Price
How It Works
Vacationing has never been easier or cheaper with the help of a dedicated travel consultant from AffordableTours.com
1. Free Quote
Find your perfect trip on our website and simply request a free quote. Need to speak to a live person? Call us 7 days a week at 1-800-935-2620. No robots here!
2. Dedicated Travel Consultant
Your personal travel consultant will reach out and be your point of contact for your entire travel experience from start to finish. Did we mention you'll be working with an award winning team? Sweet!
3. Lowest Price Guaranteed
Because we're one of the largest sellers of travel, we're able to give you a discount on your vacation package. No one beats our prices!
4. Stress Free Travel
Knowing you got the best deal, all that's left is for you to pack your bags and enjoy your vacation!