New Zealand Tours & Vacation Packages 2023/2024
Save up to 40% on New Zealand Tours & Vacation Packages 2023/2024
New Zealand Travel Guide
Located in the southwestern Pacific, New Zealand is a stunning destination that you simply have to see to believe. New Zealand has two main landmasses referred to as the North Island and the South Island. On your New Zealand tour, you'll be able to see the best of both of them. Explore the stunning nature and wildlife, get to know the friendly locals, and experience a completely new way of life. With tour operator volume buys plus our low everyday prices you can save up to 40% versus assembling the same itinerary on your own! Book your New Zealand tour today with AffordableTours.com, your discounted tour headquarters. View New Zealand Tour Deals and Discounts
New Zealand Travel Guide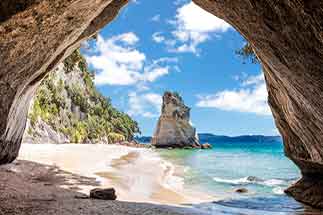 Showing 1 - 20 Tours
Tour Itinerary
Days
Operator
Quality
Style
Starts
Ends
Price

Best of New Zealand with Sydney 2024

8 reviews
17

Days

Globus

First Class

Escorted
Auckland
Sydney
Australia, New Zealand
$7,190View Tour

Best Price Guaranteed

Book With Flexibility




14 Day Wonders of New Zealand - Sunday Departure

2 reviews
14

Days

Gate1

First Class

Escorted
2 - Classic

8+ years old
22
Auckland
Queenstown
New Zealand
$4,759View Tour

Best Price Guaranteed

Book With Flexibility

Down Under Discovery 2024

92 reviews
20

Days

Globus

First Class

Escorted
Auckland
Sydney
Australia, New Zealand
$8,639View Tour

Best Price Guaranteed

Book With Flexibility

Highlights of New Zealand 2024

2 reviews
11

Days

Cosmos

Budget

Escorted
3 - Explorer

Auckland
Queenstown
New Zealand
$3,349View Tour

Best Price Guaranteed

Book With Flexibility

New Zealand's North Island Adventure (Northbound)

08

Days

Intrepid Travel

First Class

Escorted
2 - Classic

18+ years old
16
Wellington
Auckland
New Zealand
$1,460View Tour

Book With Flexibility

New Zealand Uncovered (Southbound)

20

Days

Intrepid Travel

First Class

Escorted
2 - Classic

18+ years old
16
Auckland
Christchurch
New Zealand
$6,580View Tour

Book With Flexibility

Independent Australian & New Zealand Explorer 2024

16

Days

Globus

First Class

Independent
Sydney
Auckland
Australia, New Zealand
$4,629View Tour

Best Price Guaranteed

Book With Flexibility

Independent Naturally New Zealand 2024

13

Days

Globus

First Class

Independent
Auckland
Queenstown
New Zealand
$4,179View Tour

Best Price Guaranteed

Book With Flexibility

Independent Best of Australia & New Zealand 2024

15

Days

Globus

First Class

Independent
Cairns
Auckland
Australia, New Zealand
$4,999View Tour

Best Price Guaranteed

Book With Flexibility

Highlights of the South Pacific 2024 - Small Group

17

Days

Globus

First Class

Escorted
Auckland
Sydney
Australia, New Zealand
$7,808View Tour

Best Price Guaranteed

Book With Flexibility

Down Under Discovery 2025

92 reviews
20

Days

Globus

First Class

Escorted
Auckland
Sydney
Australia, New Zealand
$9,041View Tour

Best Price Guaranteed

Book With Flexibility

Independent Tropical Fiji with Auckland 2023

11

Days

Globus

First Class

Independent
8+ years old
Mamanuca Islands
Auckland
Fiji, New Zealand
$3,899View Tour

Best Price Guaranteed

Book With Flexibility

Highlights of the South Pacific 2024

28 reviews
17

Days

Globus

First Class

Escorted
Auckland
Sydney
Australia, New Zealand
$7,388View Tour

Best Price Guaranteed

Book With Flexibility

Ultimate South Pacific with the Legendary Ghan Train & Fiji 2024

31

Days

Globus

First Class

Escorted
Melbourne
Coral Coast
Australia, Fiji, New Zealand
$15,516View Tour

Best Price Guaranteed

Book With Flexibility

Ultimate South Pacific with the Legendary Ghan Train & Fiji 2024 - Small Group

31

Days

Globus

First Class

Escorted
8+ years old
20
Melbourne
Coral Coast
Australia, Fiji, New Zealand
$16,306View Tour

Best Price Guaranteed

Book With Flexibility

Highlights of the South Pacific with Fiji 2025

6 reviews
20

Days

Globus

First Class

Escorted
Auckland
Coral Coast
Australia, Fiji, New Zealand
$9,195View Tour

Best Price Guaranteed

Book With Flexibility

Independent Australian & New Zealand Explorer with Fiji 2024

19

Days

Globus

First Class

Independent
Sydney
Coral Coast
Australia, Fiji, New Zealand
$5,779View Tour

Best Price Guaranteed

Book With Flexibility

Independent Naturally New Zealand with Fiji 2024

16

Days

Globus

First Class

Independent
Auckland
Coral Coast
Fiji, New Zealand
$5,279View Tour

Best Price Guaranteed

Book With Flexibility

Best of New Zealand with Fiji & Sydney 2024

6 reviews
20

Days

Globus

First Class

Escorted
Coral Coast
Sydney
Australia, Fiji, New Zealand
$8,531View Tour

Best Price Guaranteed

Book With Flexibility

Down Under Discovery with Fiji 2024

2 reviews
23

Days

Globus

First Class

Escorted
Auckland
Coral Coast
Australia, Fiji, New Zealand
$10,194View Tour

Best Price Guaranteed

Book With Flexibility
New Zealand Travel Guide
New Zealand Tours Highlights
Discover the wonder of the nation's capital city, Wellington.
Watch unique wildlife at Abel Tasman National Park.
Get a panoramic view of Auckland from the top of Sky Tower.
Witness the stunning colors all around you at Waiotapu Thermal Wonderland.
Wander through New Zealand's largest city, Christchurch.
Discover the country's largest national park, Fiordland National Park.
Get your adrenaline rush by bungee jumping in Queenstown.
Explore tons of cultures in one place with a visit to Auckland.
New Zealand Tours Travel Tips
New Zealand takes a lot of pride in its Flat White coffee drinks, so be sure to have one while you're in the country!
Wine is another huge draw to New Zealand. You can experience delicious wine in any region of the country, so even if you're not a huge wine fan, there's sure to be something that suits your palate.
As far as cuisine, don't miss out on New Zealand's seafood. Scallops, oysters, and mussels are local delicacies.
Sheepdog shows are incredibly popular around the country. There are actually more sheep than people! Try to catch a sheepdog show if you can.
Don't worry about running into any major predators. There aren't any poisonous insects, snakes, or large predatory animals in the entire country.
New Zealand Tours Things To Do
Abel Tasman National Park

New Zealand's smallest national park still packs a lot of punch. Abel Tasman National Park was founded in 1942 and is named for Abel Tasman, who was the first European explorer to see New Zealand in 1642. You can spot plenty of birds here, including herons, gulls, penguins, herons, and more.

Best Time To Visit

Many enjoy visiting the Park in the summertime, which brings big crowds. For a less crowded experience, summer and fall are the best times to explore.

You Should Know

The Park can actually be reached in a number of ways. People come in via land, water, and air! If you're interested in marine life, keep a lookout for blue penguins, seals, and bottlenose dolphins.

Christchurch

Christchurch is the biggest city on New Zealand's South Island, home to over 375,000 people. It has a strong English influence and is believed to have been first settled around 1250. It officially became the first established city in New Zealand in 1856. Today, you can find attractions like the Canterbury Museum, Christchurch Botanic Gardens, and the Willowbank Wildlife Reserve.

Best Time To Visit

Most visitors love coming to Christchurch in the autumn between March and May. It's still warm enough to swim, but the weather is more pleasurable than it is in summer.

You Should Know

Christchurch is considered a "gateway city" for exploring the Antarctic, one of five such cities in the world. Christchurch suffered a number of earthquakes from September 2010 to January 2012, and restoration efforts are ongoing even close to a decade later.

Waiotapu Thermal Wonderland

Waiotapu is a truly one-of-a-kind experience located in the country's Taupo Volcanic Zone. This geothermal area spans over 18 square kilometers and provides a stunning view of the colorful surroundings. You can also find the Champagne Pool, Lady Knox Geyser, and several boiling mud pools.

Best Time To Visit

May and November tend to see the smallest crowds at Waiotapu Thermal Wonderland.

You Should Know

Before Europeans occupied this area, it was home to the Ngati Whaoa tribe. This area has been considered a scenic reserve since 1931. You may also see the name of this park spelled as "Wai-O-Tapu." The name translates as "sacred waters" from the Maori language.

Queenstown

The resort town of Queenstown is a popular attraction for those visiting New Zealand's South Island. It's a town that particularly draws visitors interested in skiing. The area was first settled by Maori until European explorers showed up in 1853. If you're really into adventure, come here to bungee jump!

Best Time To Visit

Especially since Queenstown is known for its outdoor activities, it's a popular destination in the summer months from December to February. There will be more crowds, but it's worth the visit regardless.

You Should Know

From Queenstown, you can see nearby mountains like Walter Peak, Cecil Peak, and The Remarkables. It's not exactly clear how the town was named, but many believe it came from a miner stating that the town was "fit for a Queen" during an 1863 meeting to name the town.

Fiordland National Park

On the southwest corner of New Zealand's Southern Island, you'll find Fiordland National Park. It is part of the UNESCO World Heritage Site of Te Wahipounamu. This is the largest of New Zealand's 14 national parks, stretching over 12,600 square kilometers. Here, you'll find plenty of lakes, waterfalls, rain forests, and tons of other natural attractions.

Best Time To Visit

Many people consider winter (June through August) to be the best time to hike around this national park.

You Should Know

Fiordland National Park is home to the majority of New Zealand's unmodified vegetation and is also a large refuge for threatened animals like reptiles, dolphins, bats, and more. This park is an incredible destination for brown trout and rainbow trout fly fishing, as well as other outdoor activities like guided walks, camping, and mountain climbing. Fiordland National Park is New Zealand's most popular national park for international visitors.

Auckland

During your time on New Zealand's North Island, spend some time in Auckland. It's the most populous urban area in all of New Zealand and is home to over 1.4 million people. It's also home to the world's largest Polynesian population, and the influence of the culture can be felt all over the city. Popular Auckland attractions include the Museum of Transport and Technology, the Ferry Building, and the Auckland War Memorial Museum.

Best Time To Visit

Most people enjoy a visit to Auckland in the shoulder seasons from March to May or from September to November.

You Should Know

Auckland is called "Tamaki Makaurau" in the Maori language, which translates to "Tamaki desired by many." Auckland has been named one of the world's most liveable cities by the 2019 Mercer Quality of Living Survey. People who live in Auckland are sometimes casually referred to as "Jafa."

Sky Tower

Though located in Auckland, the Sky Tower deserves a highlight on its own. This incredible attraction stands 328 meters high and is an icon of the Auckland skyline, offering an unmatched view of the city. It serves as a telecommunication tower and provides stunning 360-degree views from the top observation deck.

Best Time To Visit

If your tour allows, it's best to visit the Sky Tower after 5 p.m. You'll have a beautiful view of the city lights and can avoid the biggest crowds.

You Should Know

The base of the Sky Tower is home to the SkyCity Auckland entertainment complex, featuring two hotels, the city's premier dining precinct, a 700-seat theater, and a casino. The Sky Tower brings in around 1,100 visitors every day for a total of over 415,000 people every year.

Wellington

You simply can't have a tour of New Zealand without visiting the capital city of Wellington. It's located at the western tip of the country's North Island and is home to around 212,000 people.

Best Time To Visit

Most visitors enjoy Wellington in the shoulder season from March through May. Winter (June through August) usually isn't preferable due to the strong winds.

You Should Know

Wellington earned the title of "the coolest little capital in the world" from Lonely Planet in 2013. The city was named for Arthur Wellesley, who served as the first Duke of Wellington and was the victor of the Battle of Waterloo in 1815. The city is nicknamed "Windy Wellington" thanks to the strong gales. It sits close to the mouth of the Cook Strait, which is narrow and often attracts these strong winds.
New Zealand Tour Packages
Since New Zealand is in the Southern Hemisphere, their seasons are reversed from what most of the world is used to. The temperatures do not change throughout the country but the weather can change unexpectedly during the day.
Summer - December to February

The months of December through March are considered the summertime and tend to be the warmest. The days are long and sunny, perfect for visiting the beach or partaking in other outdoor activities. That's why this is considered the best time to visit New Zealand.

Spring/Autumn - September to November & March to May

The shoulder seasons of spring and fall are excellent times to visit New Zealand. There are always indoor and outdoor activities to enjoy, and the weather is temperature and enjoyable. Be prepared, though, for a few rain showers during these times of the year.

Winter - June to August

June through September is the winter in New Zealand, so you might experience some snow. If you're looking to ski while you're on your trip, this is a great time to visit. The weather is milder, which typically doesn't attract tourists, but if you do decide to visit during this season, you'll have the land virtually to yourself.
New Zealand Tours Frequently Asked Questions
What is a New Zealand Tour?

A New Zealand tour will take you and a small group throughout the stunning country of New Zealand. You'll get to experience a brand-new culture in big cities like Christchurch and Wellington, then you can get into nature in the national parks. Most tours will last around 14 days, and some will also take you into nearby Australia.

What's Included on a New Zealand Tour?

Your New Zealand tour will include all of your accommodations as well as most meals. Typically, breakfast is included every day, but you will be left on your own for some lunches and dinners to give you a chance to experience the local cuisine on your own. You'll also be provided with entrance into many of the major attractions as well as guides throughout your tour. Finally, many companies give you the option to purchase additional excursions tailored to your interests.

What's the Best Tour for a New Zealand Tour?

New Zealand tours are a staple for many group tour companies, so you'd be hard-pressed to find a tour company that doesn't offer one. Some of the most popular tour companies for excursions to New Zealand include Globus Journeys, Tauck, Collette, and Trafalgar. Some companies offer packages that strictly take you throughout New Zealand, while some will also include several attractions throughout Australia.

How Much Does a New Zealand Tour Cost?

The typical New Zealand tour will cost around $3,000 per person for a 10-day trip. Keep in mind that this does not include the cost of travel to get you to your starting destination or to get you back home after the tour is over. If you select a longer tour, your cost will be more expensive; many 14-day tours can cost upwards of $4,000-$5,000.
Learn More About New Zealand Tours
Reviews for New Zealand Tours and Vacations
Very enjoyable vacation. Highly recommeded.
Eloisa M
Amazing tour. Great sights, professional guides and driver. It's a must-do.
Bibigul I
Our trip to New Zealand exceeded our expectations. New Zealand is spectacularly beautiful as well as an interesting country. The Gate 1 itinerary was well-planned and showed us so many highlights. Our group leader was very organized, knowledgeable and a lot of fun to boot. We also enjoyed the smaller group offered by the Discovery Tours branch of Gate 1. Made the logistics and social aspect of group travel easier and more friendly.
Mary Jane C
Departure
Lengths
Styles
Specialities
Price
How It Works
Vacationing has never been easier or cheaper with the help of a dedicated travel consultant from AffordableTours.com
1. Free Quote
Find your perfect trip on our website and simply request a free quote. Need to speak to a live person? Call us 7 days a week at 1-800-935-2620. No robots here!
2. Dedicated Travel Consultant
Your personal travel consultant will reach out and be your point of contact for your entire travel experience from start to finish. Did we mention you'll be working with an award winning team? Sweet!
3. Lowest Price Guaranteed
Because we're one of the largest sellers of travel, we're able to give you a discount on your vacation package. No one beats our prices!
4. Stress Free Travel
Knowing you got the best deal, all that's left is for you to pack your bags and enjoy your vacation!