Norway Tours & Vacation Packages 2023/2024
Save up to 40% on Norway Tours & Vacation Packages 2023/2024
Norway Travel Guide
Norway is a gorgeous country located in northern Europe that actually occupies the western half of the Scandinavian peninsula. Most of the inhabitants are in the far south, however, you will find some very small populations all through the country. Roughly two-thirds of the country is covered in mountains, deep glacial fjords, and over 50,000 islands. While there are parts of Norway that will not be available to visit during your exciting Norway tour, we promise that you will not be disappointed with the parts that you are able to see. With tour operator volume buys plus our low everyday prices you can save up to 40% versus assembling the same itinerary on your own! Book your Norway tour today with AffordableTours.com, your discounted tour headquarters. View Norway Tour Deals and Discounts
Norway Travel Guide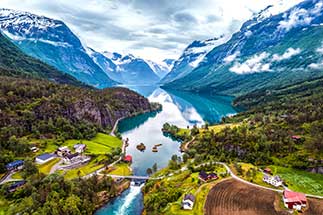 Showing 1 - 20 Tours
Tour Itinerary
Days
Operator
Quality
Style
Starts
Ends
Price

Focus on Scandinavia 2024

352 reviews
12

Days

Cosmos

First Class

Escorted
3 - Explorer

Copenhagen
Stockholm
Denmark, Norway, Sweden
$2,349View Tour

Best Price Guaranteed

Book With Flexibility

Scenic Scandinavia and its Fjords

72 reviews
14

Days

Trafalgar

First Class

Escorted
Copenhagen
Stockholm
Denmark, Norway, Sweden
$4,590View Tour

Best Price Guaranteed

Book With Flexibility

Grand Scandinavia - Classic Group

4 reviews
20

Days

Insight Vacations

First Class

Escorted
3 - Explorer

Copenhagen
Oslo
Denmark, Finland, Norway, Sweden
$6,287View Tour

Best Price Guaranteed

Book With Flexibility




11 Day Classic Scandinavia - Wednesday Departure

11 reviews
11

Days

Gate1

First Class

Escorted
Copenhagen
Bergen
Denmark, Norway, Sweden
$2,699View Tour

Best Price Guaranteed

Book With Flexibility

Northern Capitals 2024

162 reviews
10

Days

Globus

First Class

Escorted
Copenhagen
Helsinki
Denmark, Finland, Norway, Sweden
$2,949View Tour

Best Price Guaranteed

Book With Flexibility

Norwegian Fjords Escape 2024

6 reviews
07

Days

Globus

First Class

Escorted
1 - Light

8+ years old
44
Oslo
Oslo
Norway
$1,749View Tour

Best Price Guaranteed

Book With Flexibility

Scenic Norway 2024

122 reviews
10

Days

Globus

First Class

Escorted
Oslo
Oslo
Norway
$3,299View Tour

Best Price Guaranteed

Book With Flexibility

Capitals of Scandinavia

7 reviews
10

Days

Trafalgar

First Class

Escorted
Copenhagen
Helsinki
Denmark, Finland, Norway, Sweden
$3,352View Tour

Best Price Guaranteed

Book With Flexibility

Timeless Scandinavia

2 reviews
12

Days

Luxury Gold

Deluxe

Escorted
Copenhagen
Oslo
Denmark, Norway, Sweden
$8,175View Tour

Best Price Guaranteed

Book With Flexibility

Norwegian Fjords Escape with Northern Lights 2023

10

Days

Globus

First Class

Escorted
1 - Light

8+ years old
44
Oslo
Oslo
Norway
$2,849View Tour

Best Price Guaranteed

Book With Flexibility




13 Day Sweden & Norway, Scandinavian Culture & Fjords - Thursday Departure

2 reviews
13

Days

Gate1

First Class

Escorted
Stockholm
Bergen
Norway, Sweden
$4,999View Tour

Best Price Guaranteed

Book With Flexibility

Norwegian Fjords Escape 2023

6 reviews
07

Days

Globus

First Class

Escorted
1 - Light

8+ years old
44
Oslo
Oslo
Norway
$1,489View Tour

Best Price Guaranteed

Book With Flexibility




11 Day Classic Scandinavia - Friday Departure

7 reviews
11

Days

Gate1

First Class

Escorted
Copenhagen
Bergen
Denmark, Norway, Sweden
$2,699View Tour

Best Price Guaranteed

Book With Flexibility




13 Day Sweden & Norway, Scandinavian Culture & Fjords - Saturday Departure

2 reviews
13

Days

Gate1

First Class

Escorted
Stockholm
Bergen
Norway, Sweden
$4,999View Tour

Best Price Guaranteed

Book With Flexibility

Northern Capitals 2024 - Small Group

4 reviews
10

Days

Globus

First Class

Escorted
Copenhagen
Helsinki
Denmark, Finland, Norway, Sweden
$3,749View Tour

Best Price Guaranteed

Book With Flexibility

Norwegian Fjords Escape with Northern Lights 2024

10

Days

Globus

First Class

Escorted
1 - Light

8+ years old
44
Oslo
Oslo
Norway
$3,109View Tour

Best Price Guaranteed

Book With Flexibility

Best of Norway

7 reviews
09

Days

Trafalgar

First Class

Escorted
Oslo
Oslo
Norway
$3,330View Tour

Best Price Guaranteed

Book With Flexibility

Top of Scandinavia with Artic Circle with Coastal Cruise 2024

14

Days

Globus

First Class

Tour & Cruise
8+ years old
Helsinki
Bergen
Finland, Norway
$5,899View Tour

Best Price Guaranteed

Book With Flexibility

Norwegian Fjords 2024

10 reviews
11

Days

Cosmos

Budget

Escorted
3 - Explorer

Oslo
Oslo
Norway
$2,389View Tour

Best Price Guaranteed

Book With Flexibility

Best of Norway with Oslo Extension 2024

10 reviews
08

Days

Globus

First Class

Escorted
Oslo
Oslo
Norway
$2,519View Tour

Best Price Guaranteed

Book With Flexibility
Norway Travel Guide
Norway Tours Highlights
Incredible views of the Scandinavian coastline, including the thousands of islands
Enjoy sightseeing in Oslo, Bergen, and Stalheim
Taste the local delicacies in between your on tour meals to really get a taste of Norway
Learn about some of the Viking histories of the Scandinavian people
Visit the local museums to really get a view into the past
Enjoy any one of the local glacial tours, offering you closer looks at the fjords that are all around the coastline
Marvel at the twin-waterfall while enjoying your trek through the Hardangervidda mountain plateau
Venture out on your own in some of the ancient cities, such as Bryggen, and learn about some of Norway's history
Venture one a cruise to view some of the more famous fjords that Norway is known for and get a better understanding of how the glacial fjords are formed
Step onboard the Loen Skylift and enjoy spectacular views while scaling Mount Hoven
Norway Tours Travel Tips
Polar Bears, although a common misconception, do not roam freely in the streets of Norway. In fact, there are no wild Polar Bears on mainland Norway at all
Ensure that you have exchanged your dollars and Euros for Norwegian Krone or else you won't get far in terms of spending
If you aren't able to speak Norwegian don't worry, most Norwegians can speak English. They may be shy to carry on full conversations, but they can understand enough to help you out with any questions you may have
Norway is one of the safest countries in the world, with an extremely low crime rate
Some attractions are only open during a certain season, so be sure to do your research before booking your tour
Be sure to bring an extra layer of clothing, regardless of the season that you are visiting in. The weather can be a little unpredictable
Wild camping is something that is popular in Norway, meaning that in most of the country you can pitch a tent wherever you please unless it is stated otherwise
Most Outdoor Locations and National Parks are free to access and use, but be sure to clean up after yourself
Norway Tours Things To Do
Visit and Explore Mount Floyen

If you are looking to experience the best vistas across Bergen then you have to come and see Mount Floyen, which has a summit that overlooks the entire city. While you are able to hike the paths that will take you up the 399-meter climb, you can also opt to take the funicular railway to the top and avoid exhaustion. Once you arrive at the top you can gaze out over the entire city and vista and really take in the absolutely breathtaking view. Another bonus is the Floyen Folk Restaurant which has amazing food and traditional music recitals all year round.

You Should Know

The hike up the mountain is rather relaxed, and you can also rent bikes from the city to help with the ascent. Don't let the height scare you, walking or biking will give you some incredible photo opportunities.

Visit Oslo Cathedral

While in Oslo it is customary to visit the Oslo Cathedral, which happens to be one of the main draws to the city. The Cathedral, built in the 11th century, is still in its original form and offers you some absolutely breathtaking architectural features, as well as incredible pieces of art. The style of the church is baroque, and it was the first church to ever be established in Norway. The history of the cathedral is something that you may want to dive deeper into, but today the Cathedral is still functioning and is often used for iconic events, such as those of the Royal family.

Best Time To Visit

If you are looking to attend a service at the cathedral, we mentioned that it is fully functioning, offering a variety of services throughout the week. However, it does get quite busy so we suggest deciding on a certain time and being early.

Ferry Rides

While on one of our tours there will be chances to take Ferry rides across various bodies of water. With so many various islands and inlets to see sometimes a Ferry ride is the only way to see them. While the Ferry's you will be boarding will be tours that last a few hours, there are some Ferry's that set sail for days at a time to show you even more of Norway. Rest assured, the Ferry rides that we have booked for you will show you some incredible sights while you are here.

You Should Know

The climate in Norway can change rapidly, dropping temperatures rather fast. We do suggest, especially on the Ferry rides, to have jackets with you, as well as rain ponchos in case of inclement weather.

Take a Tour Through Akershus Castle

Akershus Castle was built during the medieval period in 1299 and was meant to be a protection for Oslo from any enemy invasions. Over the years the uses of this fortress changed, becoming a renaissance castle, and even a prison in more modern times. Today it is used by the Norwegian Ministry of Defense, and you are able to visit the castle and get a lesson in some of the History of Medieval Norway. You are also able to view some of the pretties rooms here, such as the banquet rooms and chapel. The castle is also home to a variety of antiques that will show you a more in-depth history of the castle itself.

Best Time To Visit

The castle is a very popular attraction and you are sure to find crowds regardless of the time of year that you visit. To get the most out of your experience we do suggest visiting in the morning, before noon.

Go Sightseeing at the Vigeland Sculpture Park

Norway is known for many things, including food, music, and architecture, but they also pride themselves in being the home to some incredible artists, including sculptor Gustav Vigeland. At the Vigeland Sculpture Park you will find over 200 incredible pieces by this amazing artist. Not only is the park full of incredible sculptures, it is also the biggest sculpture park in the world that has a single artist focus. The park is home to some astounding pieces, and eerie pieces as well. Do not be alarmed to find skeletons in the tree branches while enjoying your tour!

Best Time To Visit

For some of the best photo opportunities we do suggest visiting in the early evenings. The sunset through the park is incredible, and some of the sculptures have an even more dramatic look in the twilight.

Take a Walk Through the Viking Ship Museum

Of course one of the main things people seem to know about Norway is our Viking history. While there are not any Viking settlements left in present-day Norway, at the Viking Ship Museum you can take a step back in time and see what things were like back then. Don't let the name fool you, it's not all boats in this museum, but some well-preserved artifacts from the time period as well. There are three longboats in the museum that have been dated back to the ninth century and are in incredible shape. One of the most famous ships is the Oseberg Boat, which was said to have been used in funerary arrangements as a burial vessel specifically for Viking nobility.

You Should Know

The museum can get fairly busy regardless of the time that you visit, so we suggest adding it to your list, and hoping for entrance during your time here. Be prepared to come back at different points throughout the day to try again.

Travel to Lillehammer

Sitting close to the scenic Lake Mjosa, Lillehammer is one of the top tourist destinations for domestic and international travelers alike. Malhaugen Park, one of the main attractions here, takes the form of an open-air museum, showcasing over 100 ancient buildings that give you a glimpse into Norway's past. Some of these buildings include churches, farmhouses, and even workshops from the 18th century.

Best Time To Visit

We suggest visiting in the winter months as you will be able to try out skiing, skating, curling, or even snowshoeing through some of the amazing Nordic trails that are in the area.

Take a Tour of the Royal Palace

While you are in Norway you need to make sure that you leave yourself time to tour the Royal Palace. Constructed at the beginning of the 19th century, the palace was meant to be the residence of King Charles iii who dies before the work was finished. Now it is home to King Harald V and Queen Sonja, and in the summer months, you are able to visit and tour some of the rooms here. One incredible room is the bird room where there are over 40 species of birds on display. There is also the Hall of Mirrors and the Grand Hall, both of which have intricate crystal chandeliers that are admired by all who see them.

Best Time To Visit

As we stated, the palace can only be toured during the summer months of so be sure to take that into consideration when deciding on the time of year that you wish to book your Norway Tour.
Norway Tour Packages
The climate in Norway varies a bit in each part o the country. In the northern and inland regions, the temperatures are usually lower, and the coastal regions have a milder climate. Like many other places, the best time to visit Norway is in the shoulder seasons (Spring and Fall).
Summer - June to august

While the summer is a gorgeous time to visit you will be joined by many other tourists who flock to Norway in the summer. Between mid-June and mid-August is the high season for Norway, and we suggest avoiding that in order to get as much as you can out of your trip. Fewer people mean less wait times, which means more chances to get to see everything that you possibly can during your time here.

Winter - December to February

If you are looking for some time to get skiing in while you are here, which Norway has incredible conditions for, then we suggest visiting between November and February, when skiing weather and temperature are ideal. The deeper into the winter you go, the harsher the cold will be, but if you bundle up correctly then it shouldn't be that bad.
Norway Tours Frequently Asked Questions
What is a Norway Tour?

A Norway Tour is the most relaxing and cost-effective way to see as much of the wonderful country of Norway as you can within a certain time limit. While you could easily fly and travel around the city at your own cost, flights, hotel accommodations, and meals can add up quickly and can often make the entire experience much too expensive. By booking a Norway Tour some of your meals are covered by the charter, deals on accommodations are available, and you have the chance to visit some of the most luxurious places that Norway is known for.

What is Included on a Norway Tour?

The Norway Tour will include some delicious food, and some incredible excursions, all covered by your initial cost. Any travel costs are covered by the tour company, including motorcoach, ferry crossings, and boat cruises. You will be provided with a full Scandinavian breakfast each day, 1 lunch at an area along the tour route, and 7 three-course dinners, which includes dinner at a local restaurant in Oslo. While you are traveling you shouldn't need to purchase any additional food, barring any snacks that you wish to grab. You can choose to eat in other restaurants during the tour, but those costs will not be incurred by the travel company.

What is the Best Norway Tour?

The best type of Norway Tour truly depends on what you are hoping to see. Our most popular tour hits many of the incredible tourist spots but also hits some areas of Norway that you may not get to see on any other tour. We also include a variety of excursions that you will be participating in each day, which gives you even more of an authentic Norwegian experience. Be sure to research if some of the things you are hoping to do are seasonal and book accordingly.

How Much Does a Norway Tour Cost?

The cost of a Norway Tour depends on the time of year that you are hoping to visit. While the prices do not change by much, they do change slightly, with higher prices in the peak seasons (Summer and winter). A typical tour will cost you between $2500-$2900 but includes quite a bit. Your travel costs including motorcoach, ferry crossings, and boat cruises are all covered under the cost, as are your meals. If there are any excursions booked for your tour they are also included under this price. The only thing not included in is your lodging at hotels, but the deals offered to the tour groups are very good, some as low as $70 per night.
Learn More About Norway Tours

The Top 5 Winter Destinations For 2019

Traveling in the winter season is an opportunity to visit new destinations and discover festivities around the world. Here are our top picks for the season!


Review: Scenic Scandinavia And Its Fjords With Trafalgar

By: Ana Pitiranggon, Employee Development Team Specialist Scandinavia has been on my bucket list ever since I became an avid fan of the TV series, "Vikings". With its breathtaking views in between and beyond the deep of fjords, and seeing such extreme natural beauty and learning about the heritage of the Vikings, this Scenic Scandinavia And Its…
Reviews for Norway Tours and Vacations
Always a well organized Operator.
Ann P
We had a great guide and wonderful trip all around, highly recommend!
George R
Totally satisfied with the entire experience, my 1st tour w/ Gate1...our guide, made the experience worthwhile....will surely book another tour with my family in the future!
Jessica T
Departure
Lengths
Styles
Specialities
Price
How It Works
Vacationing has never been easier or cheaper with the help of a dedicated travel consultant from AffordableTours.com
1. Free Quote
Find your perfect trip on our website and simply request a free quote. Need to speak to a live person? Call us 7 days a week at 1-800-935-2620. No robots here!
2. Dedicated Travel Consultant
Your personal travel consultant will reach out and be your point of contact for your entire travel experience from start to finish. Did we mention you'll be working with an award winning team? Sweet!
3. Lowest Price Guaranteed
Because we're one of the largest sellers of travel, we're able to give you a discount on your vacation package. No one beats our prices!
4. Stress Free Travel
Knowing you got the best deal, all that's left is for you to pack your bags and enjoy your vacation!