Hungary Tours & Vacation Packages 2023/2024
Save up to 40% on Hungary Tours & Vacation Packages 2023/2024
Hungary Travel Guide
Hungary is a gorgeous country located in Europe that is relatively affordable compared to its nearby countries. It's filled with fantastic city sights in Budapest and iconic architecture that you won't be able to see in other countries. If you're going on a Hungary tour, you're in for a fun time! With tour operator volume buys plus our low everyday prices you can save up to 40% versus assembling the same itinerary on your own! Book your Hungary tour today with AffordableTours.com, your discounted tour headquarters. View Hungary Tour Deals and Discounts
Hungary Travel Guide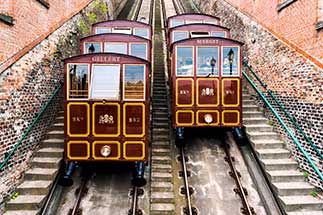 Showing 1 - 20 Tours
Tour Itinerary
Days
Operator
Quality
Style
Starts
Ends
Price

Imperial Splendors 2024

244 reviews
10

Days

Globus

First Class

Escorted
Munich
Munich
Austria, Czech Republic, Germany, Hungary, Slovakia
$2,849View Tour

Best Price Guaranteed

Book With Flexibility




Prague, Vienna & Budapest 2023

300 reviews
09

Days

Cosmos

Budget

Escorted
3 - Explorer

Munich
Munich
Austria, Czech Republic, Germany, Hungary
$1,379View Tour

Best Price Guaranteed

Book With Flexibility

Imperial Europe

296 reviews
10

Days

Trafalgar

First Class

Escorted
Munich
Munich
Austria, Czech Republic, Germany, Hungary, Slovakia
$2,102View Tour

Best Price Guaranteed

Book With Flexibility

Prague, Vienna & Budapest 2024

300 reviews
09

Days

Cosmos

Budget

Escorted
3 - Explorer

Munich
Munich
Austria, Czech Republic, Germany, Hungary
$1,419View Tour

Best Price Guaranteed

Book With Flexibility




15 Day Kaleidoscope of Central Europe - 15 Day Kaleidoscope of Central Europe (Saturday Departure)

15

Days

Gate1

First Class

Escorted
Warsaw
Berlin
Austria, Czech Republic, Germany, Hungary, Poland
$2,749View Tour

Best Price Guaranteed

Book With Flexibility




12 Day Danube River Cruise with Prague Regensburg to Budapest, Monarch Queen

12

Days

Gate1

First Class

River Cruise
Prague
Prague
Austria, Czech Republic, Germany, Hungary
$2,499View Tour

Best Price Guaranteed

Book With Flexibility

Imperial Escape 2023

68 reviews
07

Days

Globus

First Class

Escorted
Budapest
Prague
Austria, Czech Republic, Hungary
$1,299View Tour

Best Price Guaranteed

Book With Flexibility

Highlights of Eastern Europe

45 reviews
17

Days

Trafalgar

First Class

Escorted
Vienna
Vienna
Austria, Croatia, Czech Republic, Germany, Hungary, Poland, Slovakia, Slovenia
$4,062View Tour

Best Price Guaranteed

Book With Flexibility

Bohemian Dream 2024

54 reviews
09

Days

Globus

First Class

Escorted
Budapest
Prague
Austria, Czech Republic, Hungary, Slovakia
$2,479View Tour

Best Price Guaranteed

Book With Flexibility

Imperial Escape 2024

68 reviews
07

Days

Globus

First Class

Escorted
Budapest
Prague
Austria, Czech Republic, Hungary
$1,199View Tour

Best Price Guaranteed

Book With Flexibility

Imperial Europe

296 reviews
10

Days

Trafalgar

First Class

Escorted
Munich
Munich
Austria, Czech Republic, Germany, Hungary, Slovakia
$1,913View Tour

Best Price Guaranteed

Book With Flexibility

The Legendary Danube with 2 Nights in Prague 2024

10

Days

Globus

First Class

River Cruise
1 - Light

8+ years old
166
Prague
Budapest
Austria, Czech Republic, Germany, Hungary
$3,538View Tour

Best Price Guaranteed

Book With Flexibility




Central Europe 2023

324 reviews
15

Days

Cosmos

Budget

Escorted
3 - Explorer

Frankfurt
Frankfurt
Austria, Czech Republic, Germany, Hungary, Poland, Slovakia
$2,089View Tour

Best Price Guaranteed

Book With Flexibility

Highlights of Bohemia

66 reviews
15

Days

Costsaver

Budget

Escorted
Frankfurt
Frankfurt
Austria, Czech Republic, Germany, Hungary, Poland
$1,593View Tour

Best Price Guaranteed

Book With Flexibility

Bohemian Highlights

50 reviews
14

Days

Trafalgar

First Class

Escorted
Berlin
Frankfurt
Austria, Czech Republic, Germany, Hungary, Poland, Slovakia
$3,441View Tour

Best Price Guaranteed

Book With Flexibility




11 Day Crown of Central Europe - Saturday Departure

2 reviews
11

Days

Gate1

First Class

Escorted
Prague
Budapest
Austria, Czech Republic, Germany, Hungary
$1,799View Tour

Best Price Guaranteed

Book With Flexibility

Highlights of Eastern Europe - End Budapest, Classic Group

2 reviews
14

Days

Insight Vacations

First Class

Escorted
Budapest
Budapest
Austria, Czech Republic, Germany, Hungary, Poland, Slovakia
$4,295View Tour

Best Price Guaranteed

Book With Flexibility

Easy Pace Budapest, Vienna & Prague - Classic Group, Winter

9 reviews
10

Days

Insight Vacations

First Class

Escorted
Budapest
Prague
Austria, Czech Republic, Hungary, Slovakia
$2,599View Tour

Best Price Guaranteed

Book With Flexibility

The Best of Eastern Europe 2024

284 reviews
14

Days

Globus

First Class

Escorted
Berlin
Berlin
Austria, Czech Republic, Germany, Hungary, Poland, Slovakia
$3,299View Tour

Best Price Guaranteed

Book With Flexibility




14 Day Affordable Central Europe with Warsaw, Krakow & Berlin - Sunday Departure

14

Days

Gate1

First Class

Escorted
Warsaw
Berlin
Austria, Czech Republic, Germany, Hungary, Poland
$2,049View Tour

Best Price Guaranteed

Book With Flexibility
Hungary Travel Guide
Hungary Tours Highlights
Explore the historic Eger Castle.
Relax at the Miskolctapolca Cave Bath.
Go on a memorable Danube River Cruise.
Walk around Memento Park.
Shop around the Great Market Hall in Budapest.
Visit the Caves of Aggtelek Karst National Park.
Adventure through the Hortobagy National Park.
Check out the beautiful Hungarian Parliament Building.
Visit the Fisherman's Bastion.
Swim in the iconic Szechenyi Thermal Bath.
Attend a concert at St. Stephen's Basilica.
Visit the outdoor Heroes' Square.
Hungary Tours Travel Tips
Be sure also to eat some of the local food when you visit Hungary. Goulash is the most popular dish here, but there are many other fabulous dishes to try while traveling around the country too!
It is safe to drink the water in Hungary, but if you want to save yourself from the slight possibility of an upset stomach, make sure to purchase water bottles from the local convenience or grocery stores.
Make sure that you take out some of the local currency when visiting Hungary. While many places will take debit and credit cards, it's safer to always carry local currency with you.
When packing for your trip to Hungary, don't forget to bring EU plug converters for your plugs. This way, you can still use all of your electronics without replacing them when visiting the country.
Bring a strong pair of walking shoes because a lot of Hungary is very walkable. The best way to explore a lot of the country is on foot!
Hungary Tours Things To Do
Explore Eger Castle

Eger Castle, also referred to as the Castle of Eger by some, is an old castle located in Eger, Hungary. It's built in the Romanesque style of architecture and is most well-known for staying strong during Turkey's 16th-century attack. This is a great time to visit to learn more about Hungary's history, especially with war and attacks. There are artifacts and exhibits throughout the castle, which will only enrich your experience. Be sure to take the time and also explore the rest of the nearby town of Eger when visiting.

You Should Know

You do have to slightly walk (or hike) up to Eger Castle because it's located above the city.

Relax at the Miskolctapolca Cave Bath

The Miskolctapolca Cave Bath is a thermal bath that dates back a few hundred years, located in Kozpark, Hungary. It's known to help people with joint pain and also has a lower salt content than traditional thermal baths in the country. Because of that, visitors can be in them for a more extended period of time. The baths, just like their name suggests, are located underground in their cave. Because the caves are such a unique and fun experience, plan on spending around 3 hours when you visit.

Best Time To Visit

Keep in mind that the cave baths can't be visited during January.

Go on a Danube River Cruise

One of the best things to do in all of Hungary is to go on a Danube River Cruise. Many different cruise lines offer these cruises, and you can find them after a quick search on the internet. Keep in mind that the Danube River Cruise will often start right in Budapest and end in Vienna. So, technically, you can see two countries during your entire trip! They might also go to Bucharest or Nuremberg. Just make sure you do your research to see where it will end up.

You Should Know

Book your cruise well in advance to ensure that you're able to go on the cruise.

Walk around Memento Park

Memento Park is a park and open-air museum located in Budapest. It's filled with giant statues, most of which date back to the Communist time of Hungary's past. The sculptures throughout Memento Park include ones of Marx and Lenin, among others. The park first opened in 1993, and the main architect of the park was Akos Eleod. If you're interested in learning more about the country's history, then this is an absolute must-visit. It's best to book your tickets in advance if you plan on visiting Memento Park, at least the day before!

Best Time To Visit

Keep in mind that Memento Park is closed on Mondays.

Shop at the Great Market Hall

Great Market Hall, also referred to as Central Market Hall by some, is a huge produce market and shopping center located in Budapest, Hungary. The entire building is built in the neogothic style of architecture. In addition to its fantastic architecture, there are tons of fun things to shop around for here. You can find groceries like fruits and vegetables and clothing, home decor, and even souvenirs for you to bring home. Even if you don't plan on purchasing anything, it's a fun place to walk around.

You Should Know

The majority of places in Great Market hall do except credit cards.

Visit the Caves of Aggtelek Karst National Park

The Caves of Aggtelek Karst National Park is a UNESCO World Heritage Site in Hungary. It consists of over 700 different caves that cover just under 150,000 acres. Honestly, this is a vast area worth exploring during your Hungary tour if you have time in your itinerary! These limestone caves are located right along the border of Hungary and Slovakia. It's the most extensive cave system of its kind in all of Europe. The best way to visit the caves is on a Hungary Tour, so if you're thinking about booking one, then you're in luck!

You Should Know

Six different entrances lead into the cave system, but only three are in Hungary while the other three are in Slovakia.

Visit the Fisherman's Bastion

The Fisherman's Bastion is a monument located in Budapest. It's part of Buda Castle and was constructed in the 19th century. It's built in the Neoclassical and Gothic Revival styles of architecture, so it's truly a gorgeous place to visit. This is one of the most-visited spots in all of Hungary because it gives one of the city's best views from above. It also looks like something out of a fairytale and is, therefore, very picturesque, no matter where you look. Make sure you bring your camera, or you're going to regret it!

Best Time To Visit

Visit either right when it opens or right when it closes to avoid the crowds. You won't regret it because this spot is usually bustling!

Swim in the Szechenyi Thermal Bath

The Szechenyi Thermal Bath is one of the most popular spots in Budapest to visit. It's the most giant medicinal bath on the whole continent, with its waters from nearby thermal baths. It's usually quite warm and a great place to relax right in the middle of the city! Some of the baths are even outside, right in the middle of the city, while others are inside. Imagine: you could come and relax at this spa while it's snowing outside because you'd still be warm inside the thermal bath. It first opened back in 1913!

You Should Know

Take the time to explore the rest of City Park when you visit the thermal baths!

Visit the Hungarian Parliament Building

The Hungarian Parliament Building is the primary governmental building in Budapest. This structure is gorgeous and was built in the Baroque style of architecture. It was designed by Imre Steindl and is one of the most important buildings in the whole country. One of the building's best views is from the nearby bridges or across the Danube River right after the sun goes down. The whole building completely lights up and is completely gorgeous and breathtaking!

You Should Know

There are guided tours of the building if you're interested in learning more about the city's politics.
Hungary Tour Packages
The most popular time to visit Hungary is during the summer, even though this is the year's rainiest period. You could easily avoid the rest of the tourists if you plan your Hungary tour wisely!
Spring and Fall - September to November and March to May - Shoulder Season

The spring and fall are arguably the best time to visit Hungary because the weather is excellent, but the country isn't as busy as it is during the summer. In the fall, the average high temperature is approximately 60°F, while in the spring, it's approximately 64°F.

Summer - June to August - High Season

The summer is the warmest time of the year. This time of year also sees the most precipitation and most visitors. Because of the influx of tourists, accommodation prices will typically be higher during this time. The average high temperature is approximately 78°F.

Winter - December to February - Low Season

In the winter, not many people visit Hungary, even though it's the driest time of the year! The average high temperature during this time is a mere 37°F, so that it can get quite cold. Because there aren't many visitors, you'll be able to find places to stay for a relatively affordable price.
Hungary Tours Frequently Asked Questions
What are Hungary Tours?

Hungary Tours are the perfect way to get introduced to the country if you've never been there before. You'll have every part of your tour planned out for the most part, from the itinerary to transportation to even some of your meals! Plus, you'll have a tour director and a tour guide with you for your trip.

What's included on a Hungary Tour?

Hungary tours include access to a tour guide, which is the real highlight of booking one of these tours. The guide will keep you on your itinerary and will also manage your whole group. Most tours will include the majority (or at least some) of your meals, transportation, and accommodations, so it's even less for you to worry about! Make sure you do your research to see what is included in the tours you're interested in booking.

What's the best Hungary Tour?

There truly isn't a best Hungary tour because each one is so different! You'll want to research to find the one that is best for you and your needs. Consider the places you want to have included on your itinerary, your budget, and the length of your vacation. If you have trouble finding the perfect tour for you, make sure to give one of our tour experts a call. They're always here and ready to help you have the Hungary tour of your dreams!

How much do Hungary Tours cost?

Hungary tours vary vastly in price, so there isn't a flat fee across all of them. Some will cost around $80 a day, while others might cost closer to $200 a day. It depends on what's included, the tour operator, and the length of the tour. That's why researching is so important. By booking through Affordable Tours, however, you can save up to 40% off the brochure price, which is a huge plus!
Learn More About Hungary Tours

It's Time For a Wellness Vacation

Wellness Tours and Why They Are Growing in Popularity Wellness is a selling point for so many companies, and when it comes to feeling good; you want to be one of the many taking advantage of them. Wellness tours are one of the newest types of tours on the market, and they are offering the…


9 Popular Places You've Probably Been Pronouncing Wrong

When experiencing a new part of the world, making an effort to take part in the customs, language and traditions is much appreciated by the locals. Whether you're discussing world events with a friend or about to embark on an adventure to a new country, it's always a good idea to make sure you are…
Reviews for Hungary Tours and Vacations
It was well organized, feel safe and comfortable. The driver and travel director were very cooperative and accommodating which cater efficiently with our needs and meet our expectations. I will use this agency again with our future travel plans end will highly recommend with my friends and families
Victoria F
Avalon staff was very professional. Trip had to be modified, due to low water level on the Danube. Itinerary was appropriately modified and generous compensation was provided.
Laura M
My husband and I throughly enjoyed our tour! The tour guide was a wealth of interesting information on each country we visited and was always considerate of all passengers, The driver did a wonderful job of navigating through some difficult road conditions. We would highly recommend this tour
William B
Departure
Lengths
Styles
Specialities
Price
How It Works
Vacationing has never been easier or cheaper with the help of a dedicated travel consultant from AffordableTours.com
1. Free Quote
Find your perfect trip on our website and simply request a free quote. Need to speak to a live person? Call us 7 days a week at 1-800-935-2620. No robots here!
2. Dedicated Travel Consultant
Your personal travel consultant will reach out and be your point of contact for your entire travel experience from start to finish. Did we mention you'll be working with an award winning team? Sweet!
3. Lowest Price Guaranteed
Because we're one of the largest sellers of travel, we're able to give you a discount on your vacation package. No one beats our prices!
4. Stress Free Travel
Knowing you got the best deal, all that's left is for you to pack your bags and enjoy your vacation!