Wales Tours & Vacation Packages 2023/2024
Save up to 40% on Wales Tours & Vacation Packages 2023/2024
Wales Travel Guide
Towering mountain peaks, verdant river valleys, and surf-battered cliffs make the landscape in Wales a feast for the eyes, but this compact country delights with much more than its diverse geography. There's a castle for every day of the year, spectacular beaches, and the heartwarming hospitality of the Welsh people that will make you want to return even before you've left. With tour operator volume buys plus our low everyday prices you can save up to 40% versus assembling the same itinerary on your own! Book your Wales tour today with AffordableTours.com, your discounted tour headquarters. View Wales Tour Deals and Discounts
Wales Travel Guide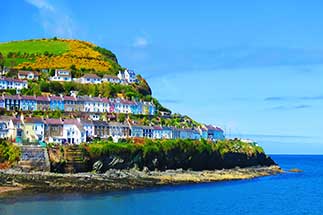 Showing 1 - 20 Tours
Tour Itinerary
Days
Operator
Quality
Style
Starts
Ends
Price

Celtic Highlights 2024

216 reviews
13

Days

Globus

First Class

Escorted
Glasgow
Glasgow
England, Ireland, North Ireland, Scotland, Wales
$3,769View Tour

Best Price Guaranteed

Book With Flexibility

Britain and Ireland Delight

120 reviews
10

Days

Costsaver

Budget

Escorted
London
London
England, Ireland, North Ireland, Scotland, Wales
$1,435View Tour

Best Price Guaranteed

Book With Flexibility

Essential Britain & Ireland 2024 - Small Group

10 reviews
10

Days

Globus

First Class

Escorted
London
London
England, Ireland, North Ireland, Scotland, Wales
$3,079View Tour

Best Price Guaranteed

Book With Flexibility

Welsh Escape with London 2023

07

Days

Globus

First Class

Escorted
London
Manchester
England, Wales
$1,199View Tour

Best Price Guaranteed

Book With Flexibility

The British Isles in Depth 2024

100 reviews
23

Days

Cosmos

Budget

Escorted
3 - Explorer

London
London
England, Ireland, North Ireland, Scotland, Wales
$4,429View Tour

Best Price Guaranteed

Book With Flexibility

Essential Britain 2024 - Small Group

2 reviews
12

Days

Globus

First Class

Escorted
London
London
England, Scotland, Wales
$3,589View Tour

Best Price Guaranteed

Book With Flexibility

2024 Best of Britain - 9 Days/8 Nights

8 reviews
09

Days

CIE

First Class

Escorted
Windsor
London
England, Scotland, Wales
$2,845View Tour

Best Price Guaranteed

Book With Flexibility

Essential Britain & Ireland 2024

324 reviews
10

Days

Globus

First Class

Escorted
London
London
England, Ireland, North Ireland, Scotland, Wales
$2,719View Tour

Best Price Guaranteed

Book With Flexibility

The Best of Britain & Ireland 2024

130 reviews
15

Days

Cosmos

Budget

Escorted
3 - Explorer

London
London
England, Ireland, Scotland, Wales
$2,719View Tour

Best Price Guaranteed

Book With Flexibility

Grand Tour of Britain & Ireland 2024

112 reviews
18

Days

Cosmos

First Class

Escorted
3 - Explorer

London
London
England, Ireland, Scotland, Wales
$3,399View Tour

Best Price Guaranteed

Book With Flexibility

Britain Sampler 2024

332 reviews
09

Days

Globus

First Class

Escorted
3 - Explorer

London
London
England, Scotland, Wales
$2,279View Tour

Best Price Guaranteed

Book With Flexibility

Essential Britain 2024

192 reviews
12

Days

Globus

First Class

Escorted
London
London
England, Scotland, Wales
$2,849View Tour

Best Price Guaranteed

Book With Flexibility

Britain & Ireland in Depth 2024

68 reviews
24

Days

Globus

First Class

Escorted
London
London
England, Ireland, North Ireland, Scotland, Wales
$6,499View Tour

Best Price Guaranteed

Book With Flexibility

England, Scotland & Wales 2024

164 reviews
13

Days

Cosmos

First Class

Escorted
3 - Explorer

London
London
England, Scotland, Wales
$2,649View Tour

Best Price Guaranteed

Book With Flexibility

Highlights of Britain & Ireland 2024

164 reviews
15

Days

Globus

First Class

Escorted
London
London
England, Ireland, North Ireland, Scotland, Wales
$3,849View Tour

Best Price Guaranteed

Book With Flexibility

Real Britain

72 reviews
09

Days

Trafalgar

First Class

Escorted
London
London
England, Scotland, Wales
$1,597View Tour

Best Price Guaranteed

Book With Flexibility

2024 Highlights of Britain - 14 Days/13 Nights

14

Days

CIE

First Class

Escorted
London
London
England, Scotland, Wales
$4,345View Tour

Best Price Guaranteed

Book With Flexibility

Britain Sampler 2024 - Small Group

09

Days

Globus

First Class

Escorted
3 - Explorer

London
London
England, Scotland, Wales
$2,519View Tour

Best Price Guaranteed

Book With Flexibility

Welsh Escape with London 2024

07

Days

Globus

First Class

Escorted
London
Manchester
England, Wales
$1,099View Tour

Best Price Guaranteed

Book With Flexibility

Britain and Ireland Highlights

61 reviews
10

Days

Trafalgar

First Class

Escorted
London
London
England, Ireland, North Ireland, Scotland, Wales
$3,172View Tour

Best Price Guaranteed

Book With Flexibility
Wales Travel Guide
Wales Tours Highlights
Explore the magnificent Snowdonia National Park, blessed with breathtaking scenery and rich history.
Work up a sweat in the hiker's paradise of Brecon Beacons National Park with its well-marked trails and opportunities for biking, horse riding, sailing, fishing, and camping.
Marvel at the Devil's Bridge near Aberystwyth, spanning the vertigo-inducing Rheidol Gorge.
Admire the splendidly preserved Cardiff Castle, constructed more than 1,000 years ago, and a must-see on your Wales tour.
Take a journey on a heritage railway in Wales, visiting some of the country's best-loved attractions and landmarks.
Discover picturesque Conwy in North Wales, a small town with architecture dating back to the Middle Ages, dominated by a stunning castle.
Relax in the delightful seaside town of Tenby on the Pembrokeshire coast.
Visit Portmeirion, a marvelous simulation of a quaint Italian village with beautiful gardens, fountains, and coastal paths.
Wales Tours Travel Tips
Traveling by road is a great way to experience the breathtaking Welsh landscape. However, driving is on the opposite side of the road compared to the United States (you might find yourself trying to change gears with the door handle!). Also, the roads tend to be narrow and parking spaces can be quite tight by American standards. To escape all the hassle, book an escorted Wales tour and let a professional local driver take you around in comfort and safety.
The Welsh people are wonderfully friendly, so don't hesitate to ask the locals for tips, directions, or suggestions. Although Welsh is the official language, most people are bilingual and will happily switch to English for you.
A Wales tour is a great opportunity to enjoy the company of like-minded travelers. Pub meals are particularly enjoyable, accompanied by delicious Welsh ciders and beers.
If your interests include art, architecture, history, and heritage, consider getting a Royal Oak Foundation membership. It's valid for a year and you'll gain unlimited entry to more than 500 National Trust sites in Wales, England, Scotland, and Northern Ireland.
The currency in Wales is the Pound Sterling. ATMs are widely available and major credit cards like Visa and Mastercard are accepted at most establishments, but some small kiosks may prefer payment in cash.
Wales Tours Things To Do
Explore the Beautiful Pembrokeshire Coast

One of the things that attracts visitors to Wales is its dramatic coastline, and nowhere is it more inspiring than on the magnificent Pembrokeshire Peninsula. Jutting out to the Irish Sea, this national park features breathtaking scenery, picturesque fishing villages, and charming resort towns enclosed by medieval walls. The wild and staggeringly beautiful landscape is ideal for walking, surfing, sea kayaking, or simply relaxing on the glorious beaches. And if you're keen to sneak in a bit of sightseeing, there are fascinating castles and spectacular cathedrals to top the natural beauty.

Best Time To Visit

The summer months can get incredibly busy with people flocking to the Pembrokeshire coast from all over Britain to enjoy the beaches and pleasant weather. If you'd prefer to visit in a quieter season, consider going in the spring when the days begin to lengthen and the weather is perfect for coastal walks.

Experience Wales' Mining Heritage

Of the many things that make up Wales' rich history, mining is the one on which the nation was built. The National Slate Museum in Caernarfon offers visitors a fascinating insight into the workings of a slate quarry, complete with tools and machinery and a massive working waterwheel. Also worth a visit is the Big Pit National Coal Museum in Brecon Beacons with its well-preserved buildings. And if you want to experience the real deal, head over to the Rhondda Heritage Park where visitors can descend to the pit bottom in a miners' elevator accompanied by former coal miners.

You Should Know

The underground tour at the Rhondda Heritage Park is not to be missed but it can be a little too intense for young children.

Visit the Spectacular Bodnant Garden

Sweeping lawns, verdant woodland, grand terraces, and intimate corners vie for your attention at the world-famous Bodnant Garden, created more than 150 years ago with plants collected from across Britain. Set against the stunning backdrop of the Carneddau Mountains of Snowdonia, the gardens offer panoramic views across the River Conwy. The gardens are home to 40 champion trees, judged as the best in Britain.

Best Time To Visit

The gardens are beautiful in every season, but spring is when the rhododendrons are in bloom. In late May or early June, the glorious Laburnum Arch, a 50-yard curved walkway, is covered in cascades of yellow laburnum blossoms.

Relax on the Isle of Anglesey

Connected to the mainland by the Menai Suspension Bridge, Anglesey is home to several tranquil fishing villages scattered along its 100-mile coastline. A great place for a few days of relaxation away from the hustle and bustle of city life. Walk the Anglesey Coastal Path, a geology buff's delight with more than 100 varieties of rocks. Nature lovers can enjoy bird watching on the tiny Salt Island or the picturesque South Stack Lighthouse, home to rare breeding pairs of choughs and colonies of razorbills and guillemots. And if you're lucky enough to be there in time for the monthly farmers' market, pick up some fresh crab or Welsh Black beef and cook up a memorable meal.

You Should Know

Don't miss a photo op on the railway platform of the town with the longest name in the world (don't ask us how to pronounce it): Llanfairpwllgwyngyllgogerychwyrndrobwllllandysiliogogogoch.

Marvel at the Impressive Caernarfon Castle

Dating back to the 13th-century, Caernarfon Castle is a massive fortified palace built by King Edward I as the seat of the first Prince of Wales. The castle's imposing gates and 13 towers are some of the best-preserved medieval architecture in Europe. Located on the banks of the River Seiont and protected by a moat, this World Heritage Site is awe-inspiring. A must-visit attraction in Wales for its sheer scale and architectural drama. Caernarfon Castle was the location for Prince Charles's investiture ceremony in 1969.

You Should Know

Opening times and days for Caernarfon Castle vary by season. The castle is closed on Thursdays and Fridays during some months of the year. Check before you go to avoid disappointment.

Discover Beautiful Cardiff

The capital of Wales, Cardiff, is often a jumping-off point for visitors eager to see the country's enthralling landscapes. But Cardiff is well worth spending a few days, exploring its imposing castle, charming Victorian-era shopping arcades, a vibrant waterfront, and fascinating museums. Particularly arresting is the Llandaff Cathedral, an exquisitely-restored 15th-century church with rare sculptures and artifacts. And if you haven't had your fill of castles, in the vicinity are the Caerphilly Castle with its huge drawbridges and the fairytale-like Castell Coch.

You Should Know

It's easy to get around Cardiff. The city has a great bus network and taxis are freely available, especially near the main attractions. If you rent a car, be aware that it can be difficult to find parking in the downtown area.

Go Hiking in Snowdonia

If you've seen breathtakingly beautiful pictures of Wales in a travel magazine, there's a good chance they were taken in Snowdonia. Home to only 25,000 people but welcoming 4 million visitors each year, it's one of the most popular destinations in Wales. This mountainous region boasts of 14 majestic peaks towering above 3,000 feet and the country's largest natural lake. It's a hiker's paradise with nearly 1,500 miles of marked trails. Also popular are activities like horse riding, biking, and whitewater rafting. For the less adventurous, there are farm tours and narrow-gauge railway trips through the picturesque Welsh countryside.

You Should Know

Snowdonia has walking trails for people of all abilities. You can challenge yourself by ascending Snowdon, the highest peak in Wales, or take a leisurely walk along the coastline. Whatever you choose to do, you're guaranteed a diverse landscape and magnificent scenery.

Admire the spectacular Devil's Bridge Falls

Located in the heart of the Cambrian Mountains, less than 15 miles from the picturesque seaside town of Aberystwyth, the Devil's Bridge Falls are a marvel of nature where the River Mynach plunges 300 feet. The Devil's Bridge, which spans the precipitous Rheidol Gorge, consists of three bridges stacked on top of one another, with the oldest dating back to the 11th-century. Nearby, the Hafod Estate features 200 acres of lovingly maintained woodlands and beautiful gardens with ancient trees.

You Should Know

The Nature Trail, a challenging 45-minute hike, will reward you with incredible views of the Devil's Bridge Falls. However, beware, it's a difficult walk with nearly 700 natural stone steps, many of which are uneven and slippery.
Wales Tour Packages
During the year, the temperatures in Wales are very constant. The days tend to be cloudy and sometimes rainy, but the temperatures almost never drop below the 50 °F and the highs are around 70 °F.
Summer - July to August - Best Season

If you want to enjoy good weather, summer is the best time to visit Wales. Keep in mind that July and August are peak tourist season, so you'll have to contend with the influx of visitors. Also, accommodation is pricey and tends to sell out early.

Spring and Autumn - March to May/September to November - Shoulder Season

Spring in Wales means lots of dry, warm days with lower prices overall and fewer crowds at the top attractions. Autumn is when the Welsh countryside turns into brilliant hues of red, gold, and orange. The magnificent Welsh castles surrounded by vibrant fall foliage is a sight to behold. But remember, October is the rainiest month in Wales, so come prepared for wet weather with the appropriate gear.

Winter - December to February - Good Season

Temperatures drop to their lowest in January and February but don't write off a Wales tour in the winter just yet. If you can brave the cold, Snowdonia covered in blankets of snow will take your breath away. And Christmas is an especially magical time to visit Wales. However, keep in mind that there may be road closures due to weather conditions, especially in the mountains.
Wales Tours Frequently Asked Questions
Do I need a visa to travel to Wales?

Wales is a part of the United Kingdom. U.S. citizens do not need a tourist visa to enter Wales for stays less than 6 months. Your passport should have remaining validity of at least six months and one blank page. No vaccinations are required before traveling to Wales. There are no currency restrictions for U.S. citizens on entry or exit.

What's included on a Wales tour?

Wales tours are great value for money and include accommodation, transportation, many meals, and guided sightseeing at all the top attractions. This is a lovely, relaxing way to explore Wales and discover the true flavor of this stunning part of the world. You'll be well looked after by your tour director with nothing to worry about. All you have to do is sit back and enjoy the scenic landscape.

What's the best Wales tour?

It depends on your interests and how much vacation time you have. If you're not short on time, a 3- to 4-week grand tour of Britain will showcase all the best sights, including top attractions in Wales. If you have only a week or two of vacation time, consider a Highlights of Britain tour that will typically include Cardiff and the surrounding area. But of course, if you have your heart set on exploring Wales in-depth, book a Wales tour that will take you to all the amazing places in this beautiful country.

How much do Wales tours cost?

Wales tours are often included as part of longer vacation packages in Britain. Prices typically start at around $200 per person per day. Call us for the best deals on Wales tours and vacation packages in Britain with the lowest prices guaranteed.
Learn More About Wales Tours
Reviews for Wales Tours and Vacations
We enjoyed everything about this trip. All of the "extras" needed to make the trip awesome added up to about the same cost as the trip itself which was a surprise, but we would do it again. Our Tour Director made the trip special!!
Bradley Z
We wanted to experience the British landscape, villages, way of life and were not disappointed.
Diana C
This package was really what I expected. Trafalgar gives the best experience for customers
Cecile R
Departure
Lengths
Styles
Specialities
Price
How It Works
Vacationing has never been easier or cheaper with the help of a dedicated travel consultant from AffordableTours.com
1. Free Quote
Find your perfect trip on our website and simply request a free quote. Need to speak to a live person? Call us 7 days a week at 1-800-935-2620. No robots here!
2. Dedicated Travel Consultant
Your personal travel consultant will reach out and be your point of contact for your entire travel experience from start to finish. Did we mention you'll be working with an award winning team? Sweet!
3. Lowest Price Guaranteed
Because we're one of the largest sellers of travel, we're able to give you a discount on your vacation package. No one beats our prices!
4. Stress Free Travel
Knowing you got the best deal, all that's left is for you to pack your bags and enjoy your vacation!