Spain Tours & Vacation Packages 2023/2024
Save up to 40% on Spain Tours & Vacation Packages 2023/2024
Spain Travel Guide
If there's one thing that epitomizes the Spanish people, it's a love for the good life. Time moves slowly in Spain and visitors are treated to a wonderfully diverse vacation with sun-kissed beaches, magnificent Moorish architecture, world-class art, lively nightlife, delicious food and wine, and passionate culture. With tour operator volume buys plus our low everyday prices you can save up to 40% versus assembling the same itinerary on your own! Book your Spain tour today with AffordableTours.com, your discounted tour headquarters. View Spain Tour Deals and Discounts
Spain Travel Guide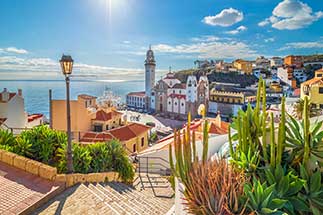 Showing 1 - 20 Tours
Tour Itinerary
Days
Operator
Quality
Style
Starts
Ends
Price

Highlights of Spain and Portugal 2024

18 reviews
09

Days

Globus

First Class

Escorted
Barcelona
Lisbon
Portugal, Spain
$2,249View Tour

Best Price Guaranteed

Book With Flexibility

Spain, Portugal & Morocco 2024

336 reviews
16

Days

Cosmos

Budget

Escorted
3 - Explorer

Madrid
Madrid
Morocco, Portugal, Spain
$2,449View Tour

Best Price Guaranteed

Book With Flexibility

Spanish Wonder End Barcelona

76 reviews
09

Days

Trafalgar

First Class

Escorted
5+ years old
50
Madrid
Barcelona
Spain
$1,552View Tour

Best Price Guaranteed

Book With Flexibility

Treasures of Spain and Portugal End Barcelona

14 reviews
14

Days

Trafalgar

First Class

Escorted
5+ years old
50
Madrid
Barcelona
Portugal, Spain
$4,005View Tour

Best Price Guaranteed

Book With Flexibility




Spain, Portugal & Morocco 2023

336 reviews
16

Days

Cosmos

Budget

Escorted
3 - Explorer

Madrid
Madrid
Morocco, Portugal, Spain
$2,399View Tour

Best Price Guaranteed

Book With Flexibility

Best of Spain

32 reviews
15

Days

Trafalgar

First Class

Escorted
Madrid
Madrid
Gibraltar, Spain
$3,595View Tour

Best Price Guaranteed

Book With Flexibility

Fátima, Lourdes & Shrines of Spain - Faith-Based Travel 2024

150 reviews
12

Days

Cosmos

Budget

Escorted
3 - Explorer

Lisbon
Barcelona
France, Portugal, Spain
$2,069View Tour

Best Price Guaranteed

Book With Flexibility




10 Day Essential Portugal & Spain - Monday Departure

2 reviews
10

Days

Gate1

First Class

Escorted
Lisbon
Barcelona
Portugal, Spain
$1,449View Tour

Best Price Guaranteed

Book With Flexibility

Lisbon & Northern Spain 2024

136 reviews
12

Days

Globus

First Class

Escorted
Lisbon
Barcelona
Portugal, Spain
$2,749View Tour

Best Price Guaranteed

Book With Flexibility

Lisbon to Madrid Escape 2024

18 reviews
08

Days

Globus

First Class

Escorted
2 - Classic

8+ years old
44
Lisbon
Madrid
Portugal, Spain
$1,329View Tour

Best Price Guaranteed

Book With Flexibility

Iberian Discovery & Morocco 2024

40 reviews
13

Days

Globus

First Class

Escorted
Madrid
Madrid
Gibraltar, Morocco, Portugal, Spain
$2,789View Tour

Best Price Guaranteed

Book With Flexibility




Fátima, Lourdes & Shrines of Spain - Faith-Based Travel 2023

150 reviews
12

Days

Cosmos

Budget

Escorted
3 - Explorer

Lisbon
Barcelona
France, Portugal, Spain
$2,099View Tour

Best Price Guaranteed

Book With Flexibility




9 Day Douro River Cruise

6 reviews
09

Days

Gate1

First Class

River Cruise
1 - Light

Porto
Porto
Portugal, Spain
$1,999View Tour

Best Price Guaranteed

Book With Flexibility

Spain, Morocco and Portugal

328 reviews
16

Days

Trafalgar

First Class

Escorted
Madrid
Madrid
Morocco, Portugal, Spain
$2,965View Tour

Best Price Guaranteed

Book With Flexibility

Amazing Spain & Portugal - Classic Group, Winter

15 reviews
09

Days

Insight Vacations

First Class

Escorted
Madrid
Madrid
Portugal, Spain
$1,845View Tour

Best Price Guaranteed

Book With Flexibility




10 Day Essential Portugal & Spain - Wednesday Departure

10

Days

Gate1

First Class

Escorted
Lisbon
Barcelona
Portugal, Spain
$1,299View Tour

Best Price Guaranteed

Book With Flexibility

Highlights of Spain and Portugal

129 reviews
13

Days

Trafalgar

First Class

Escorted
Madrid
Madrid
Portugal, Spain
$3,257View Tour

Best Price Guaranteed

Book With Flexibility

Southern Spain Escape 2023

4 reviews
09

Days

Globus

First Class

Escorted
1 - Light

8+ years old
44
Madrid
Madrid
Spain
$1,729View Tour

Best Price Guaranteed

Book With Flexibility

Spain, Portugal & Morocco 2024

122 reviews
17

Days

Globus

First Class

Escorted
Lisbon
Madrid
Morocco, Portugal, Spain
$3,949View Tour

Best Price Guaranteed

Book With Flexibility

Highlights of Spain - Classic Group, Summer

09

Days

Insight Vacations

First Class

Escorted
5+ years old
40
Barcelona
Madrid
Spain
$2,925View Tour

Best Price Guaranteed

Book With Flexibility
Spain Travel Guide
Spain Tours Highlights
Enjoy Barcelona, an enthralling seaside city packed with architectural treasures, first-rate museums, golden sand beaches, and a thriving culinary scene.
Experience the Arab-influenced city of Granada and the spectacular palace complex of Alhambra with its breathtaking landscaped gardens.
Go museum-hopping in Madrid and view world-class collections at the Museo Thyssen-Bornemisza, the Centro de Arte Reina Sofia, and the Museo del Prada.
Get messy with the locals at La Tomatina, Spain's annual tomato-throwing festival held in Buñol at the end of August.
Leave the mainland to explore Spain's beautiful islands, including party-mad Ibiza and the tantalizing Canary Islands.
Join the celebrations at the Running of the Bulls in Pamplona, a multi-day festival with good food, sangria, and unique cultural experiences.
Relax on the sun-drenched beaches of the Costa Del Sol, Spain's sunny southern coast that's dotted with marvelous resort towns.
Discover Seville, a seductive city that has an intoxicating mix of awe-inspiring cathedrals and palaces, lively tapas bars, and intimate flamenco clubs.
Spain Tours Travel Tips
Many restaurants offer a discounted dish-of-the-day at lunchtime. It's a great way to taste delicious Spanish food and save some money. Dinner in Spain can be quite late, starting at around 10 p.m. and extending to the wee hours of the morning.
All the major cities in Spain have city passes for museums, activities, and attractions. A city pass will not only save you money on sightseeing but also include free public transport.
Spain is overall safe for tourists, but petty crime like pickpocketing and tourist scams are common (like anywhere in the world). Be vigilant of your belongings in crowded areas and use common sense (don't do anything you wouldn't do at home).
Spanish people love their siesta. Many shops and restaurants down their shutters from 1-4 p.m. every day. Plan accordingly and take advantage of this time to relax and slow down as well.
The currency in Spain is the Euro. Credit and debit cards are widely accepted and there are plenty of ATMs. Haggling over prices may be acceptable in some markets, but for the most part, expect to pay the tagged price.
Spain has an amazingly diverse culture and geography. Don't limit yourself to Madrid or Barcelona. Book a Spain tour, travel by road and experience the true essence of this marvelous country.
Spain Tours Things To Do
Marvel at the Sagrada Familia in Barcelona

If you have time to see only one attraction in Barcelona, this should be it. The Sagrada Familia, Antonio Gaudi's opulent masterpiece, is a UNESCO-listed dreamy cathedral, construction of which began in 1882 and is expected to be completed by 2026 when it will be the tallest church in the world. Don't let the fact that it's incomplete put you off. The cathedral's incredible scale, vertical audacity, and combination of architectural styles (art nouveau, Catalan modernism, and late-Gothic) will leave you spellbound. Prepare to stare open-mouthed at the dramatic kaleidoscopic ceiling with a forest of pillars reaching up to it.

You Should Know

The Sagrada Familia is one of Europe's most famous landmarks and attracts 4.5 million visitors a year. Book your tickets online at least a week in advance to ensure your desired date and time are available. Pro tip: Visit at sunset to see golden light reflected from the beautiful stained-glass windows.

Delve into Spanish Culture in Seville

Winding medieval lanes, resplendent palaces, and colossal cathedrals make the Moorish capital Seville a wonderfully atmospheric city. What better place to experience Spanish culture than its crowded tapas bars, intimate flamenco clubs, and bullfighting arenas? The city hosts a fascinating festival called the Feria de Abril, a colorful week-long celebration of food, fun, and festivity each April. There are more than a thousand booths at the fairgrounds, illuminations, fireworks, flamenco dancing, and bullfighting.

Best Time To Visit

Visit on a weekday, if possible. The weekends are the busiest time at the Feria when people from surrounding towns and villages come to the fair, often making it impossibly crowded.

Explore the Charming Hill Towns of Andalusia

The world-famous pueblos blancos (white villages) of Andalusia exude Moorish charm, heavily influenced by their North African neighbors, Morocco and Algeria. The bright whitewashed houses in these tranquil hilltop towns are scattered amidst pristine mountainous landscape, creating an atmosphere that oozes romance. Explore the narrow labyrinthine passageways of Ronda, which clings perilously to a sheer cliff. Discover the mountain village of Grazalema, nestled in a scenic valley which is a UNESCO Biosphere Reserve. Or enjoy panoramic views of the coast from the medieval fortified village of Vejer de la Frontera.

You Should Know

The Route of the Pueblos Blancos is a welcome escape to the countryside from Andalusian cities like Seville, Granada, and Córdoba. However, keep in mind that Andalusia is bigger than Texas and the villages are spread across the entire region. It's best to choose one or two villages to visit that are accessible from the city you're in.

Visit the Guggenheim Museum in Bilbao

Designed by the Canadian-American architect Frank Gehry, the Guggenheim Museum in Bilbao is a striking example of groundbreaking modern architecture. The 260,000-sqft space is a daring structure that provides an enthralling backdrop to the innovative contemporary art exhibited in its 20 galleries. Enormous glass curtain walls separate the inside from the outside, flooding the curved, voluminous atrium with light. Inaugurated in 1997 by King Juan Carlos I and built at a cost of nearly $100 million, the museum is one of the largest in Spain with 250 works of modern art on display.

You Should Know

The atrium is the heart and soul of the Guggenheim and a point of reference for visitors. Catwalks connect the different galleries, making it easy to navigate the museum and giving different perspectives to the various exhibition spaces.

Discover Beautiful Madrid

There's so much to do in Spain's enchanting capital Madrid. When you tire of the wonderful museums, stop for a drink at the city's many bars and restaurants that spill onto the pavements and squares in the summer. Or head to a rooftop terrace bar for jaw-dropping views at sunset. Although not native to Madrid, flamenco dancing is popular in the city's tablaos, where you can enjoy a romantic candlelit meal with sangria and watch some of the best flamenco dancers in the world.

You Should Know

On Sundays, there's a massive flea market at the Plaza de Cascorro in Madrid. The 3,500 stalls hawk pretty much everything under the sun, from hand-made jewelry and pottery to rock band memorabilia and second-hand goods. A great place to spend a few hours browsing, mixing with the locals, and enjoying good street food and live music.

Have Some Fun in the Sun on the Costa Del Sol

Resort towns like Malaga, Marbella, and Fuengirola on Spain's southern coast, the sun-drenched Costa Del Sol, are known for their golden sand beaches, magnificent views of the azure Mediterranean, and palm-fringed promenades that just beg for a romantic sunset stroll. Play a round of golf on one of the region's 70 courses, try white-knuckle water sports like jet skiing and parasailing, visit the Moorish fortress Alcazaba, and try local delicacies like espetos, skewered fresh sardines cooked over coal and seasoned with olive oil and sea salt – delicious!

Best Time To Visit

Beach season on the Costa Del Sol is one of the longest in Europe, extending from April to October.

Admire Moorish Architecture in Granada

The opulent seat of Granada's emirs, the Alhambra Palace is a staggeringly beautiful monument and a love letter to Moorish culture. Set against the snow-capped Sierra Nevada mountain range, the 14th-century palace is arguably the finest example of Islamic architecture anywhere in the world. From a distance, the striking red fortress of the Alhambra dominates the skyline. Up close, the exquisite details of the Nasrid Palaces complement the delightful courtyards of the Generalife Gardens.

You Should Know

The Alhambra Palace in Granada is one of Spain's most visited monuments with more than 2 million visitors per year. Buy your tickets well in advance and set aside several hours to see the beautiful rooms, grounds, and gardens. Also, it's a good idea to visit the Nasrid Palaces first (your ticket will state the entry time) and then enjoy the Generalife Gardens at leisure.

Indulge in Authentic Spanish Food and Wine

What could be better than tasting food in the place where it grows and drinking wine close to the vineyards where it's produced? Along with the landscape, the cuisine in Spain varies greatly from region to region. Taste your way through the famous wine region of Rioja. And treat your taste buds to classic dishes like paella (saffron rice with chicken or seafood), patatas bravas (shallow-fried potatoes in a fiery sauce), gazpacho (tomato-based cold soup), and churros (fried dough pastry doused in sugar).

You Should Know

Eat where the locals eat for the best food at great prices. Also, ask before choosing where to sit – in some places, terrace seating is more expensive.
Spain Tour Packages
On your visit to Spain, you can expect different climates based on where you choose to visit. During the spring and fall is the most stable weather, with temperatures ranging from the 60°F to 70°F. However, the temperatures vary by region in Spain, the northern and more mountainous parts fo the country get more snowfall and cooler temperatures, while the coastal and Mediterranean regions have hot and dry summers.
Summer - June to August - Best Season

Spain is a year-round destination, but the summer (June, July, August) is peak tourist season with fabulous weather (daytime temperatures in the 90s). However, major cities like Barcelona and Madrid and popular islands like Mallorca and Ibiza are inundated with tourists at this time of year.

Spring/Fall- April to May or Septemeber to October - Good Season

If you'd like to avoid the massive summer influx of visitors, consider a Spain vacation package in the shoulder seasons, i.e., April, May, September, and October. While it's not exactly beach season, spring and autumn are a good time to visit Spain with pleasant weather, easy availability of accommodations, and overall cheaper prices.

Winter - December to February - Low Season

Winters in Spain are relatively mild with temperatures in the 40s-50s. The north of the country sometimes gets snowfall in the mountainous regions. However, the weather is perfect for sightseeing as it's still warmer and sunnier than in most of Europe. What's more, you'll get more bang for your buck and shorter queues at popular attractions.
Spain Tours Frequently Asked Questions
Do I need a tourist visa to join a tour of Spain?

U.S. citizens do NOT need a tourist visa for Spain for stays less than 90 days. Your passport should be valid for 3 months beyond your date of departure (6 months recommended). There should be at least 1 blank page for the stamp. No vaccinations are required before visiting Spain. It's a good idea to have the address, phone number, and after-hours emergency telephone of the U.S. Embassy in Madrid on you. Also, print a copy of your passport and carry it separately from the original.

How much time is ideal for a Spain vacation package?

We recommend setting aside 10-15 days to see all the incredible sights in Spain and allow for travel between cities. Spain is almost too diverse to explore in a single trip, but you can visit the major attractions, experience the culture, and enjoy some beach time with a Spain tour that is designed to showcase the country's best. You can also extend your vacation in the Iberian Peninsula and spend some time in Portugal and Morocco.

What's included on a Spain tour?

A Spain tour includes accommodation, transportation, many meals, and lots of sightseeing at the top attractions. On guided Spain tours, you'll have an experienced tour manager on hand to answer your questions, give you recommendations, and ensure your comfort and safety. Last but not least, you'll enjoy the company of like-minded travelers on your Spain tour.

How much do Spain tours cost?

Spain tours start at around $150 per person per day. Call us for the latest deals from top tour operators. We offer many discounted Spain tours and our consultants will be happy to help you plan your dream vacation.
Learn More About Spain Tours

Top Culinary Destinations Around The World

Finding exceptional flavors should not be hard to do, so we have put together some of the top culinary destinations around the world. However, if you've not traveled much then you may not know where to go for all the amazing food. Learning a bit more about these areas, what they offer, their different tastes,…


Everything you need to experience on your first trip to Spain

Savour wine and tapas in a sun-dappled cafe by the coast. Soak in the local nightlife to the sound of the flamenco guitar. Stroll through the mosaic-decorated halls of an unfinished masterpiece. This is Spain. The sunny jewel in Europe's mainland is welcoming back fully vaccinated visitors from the UK, EU and North America. With…
Reviews for Spain Tours and Vacations
Spanish Wonders was a fabulous trip. The local specialists were very knowledgeable and had a great sense of humor. Our group had a wonderful time.
Lori S
Very good experience through out the whole process from booking to going on the tour
Rupa N
Well planned trip and the tour director was excellent.
Naresh V
Departure
Lengths
Styles
Specialities
Price
How It Works
Vacationing has never been easier or cheaper with the help of a dedicated travel consultant from AffordableTours.com
1. Free Quote
Find your perfect trip on our website and simply request a free quote. Need to speak to a live person? Call us 7 days a week at 1-800-935-2620. No robots here!
2. Dedicated Travel Consultant
Your personal travel consultant will reach out and be your point of contact for your entire travel experience from start to finish. Did we mention you'll be working with an award winning team? Sweet!
3. Lowest Price Guaranteed
Because we're one of the largest sellers of travel, we're able to give you a discount on your vacation package. No one beats our prices!
4. Stress Free Travel
Knowing you got the best deal, all that's left is for you to pack your bags and enjoy your vacation!