Portugal Tours & Vacation Packages 2023/2024
Save up to 40% on Portugal Tours & Vacation Packages 2023/2024
Portugal Travel Guide
Long stretches of golden sand, medieval hilltop castles, sunbaked cobblestone villages, and lively cities – Portugal is a lot of things. Add to this a dash of mouth-watering food and wine and some of the friendliest people in the world, and you have the recipe for the perfect vacation. With tour operator volume buys plus our low everyday prices you can save up to 40% versus assembling the same itinerary on your own! Book your Portugal tour today with AffordableTours.com, your discounted tour headquarters. View Portugal Tour Deals and Discounts
Portugal Travel Guide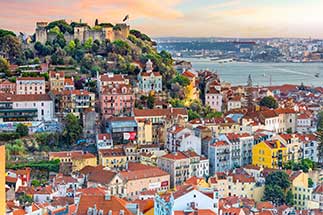 Showing 1 - 20 Tours
Tour Itinerary
Days
Operator
Quality
Style
Starts
Ends
Price

Highlights of Spain and Portugal 2024

18 reviews
09

Days

Globus

First Class

Escorted
Barcelona
Lisbon
Portugal, Spain
$2,249View Tour

Best Price Guaranteed

Book With Flexibility

Portugal in Depth 2024

510 reviews
11

Days

Globus

First Class

Escorted
Lisbon
Lisbon
Portugal
$2,149View Tour

Best Price Guaranteed

Book With Flexibility

Spain, Portugal & Morocco 2024

336 reviews
16

Days

Cosmos

Budget

Escorted
3 - Explorer

Madrid
Madrid
Morocco, Portugal, Spain
$2,449View Tour

Best Price Guaranteed

Book With Flexibility

Treasures of Spain and Portugal End Barcelona

14 reviews
14

Days

Trafalgar

First Class

Escorted
5+ years old
50
Madrid
Barcelona
Portugal, Spain
$4,005View Tour

Best Price Guaranteed

Book With Flexibility




Spain, Portugal & Morocco 2023

336 reviews
16

Days

Cosmos

Budget

Escorted
3 - Explorer

Madrid
Madrid
Morocco, Portugal, Spain
$2,399View Tour

Best Price Guaranteed

Book With Flexibility

Fátima, Lourdes & Shrines of Spain - Faith-Based Travel 2024

150 reviews
12

Days

Cosmos

Budget

Escorted
3 - Explorer

Lisbon
Barcelona
France, Portugal, Spain
$2,069View Tour

Best Price Guaranteed

Book With Flexibility




10 Day Essential Portugal & Spain - Monday Departure

2 reviews
10

Days

Gate1

First Class

Escorted
Lisbon
Barcelona
Portugal, Spain
$1,449View Tour

Best Price Guaranteed

Book With Flexibility

Lisbon & Northern Spain 2024

136 reviews
12

Days

Globus

First Class

Escorted
Lisbon
Barcelona
Portugal, Spain
$2,749View Tour

Best Price Guaranteed

Book With Flexibility

Lisbon to Madrid Escape 2024

18 reviews
08

Days

Globus

First Class

Escorted
2 - Classic

8+ years old
44
Lisbon
Madrid
Portugal, Spain
$1,329View Tour

Best Price Guaranteed

Book With Flexibility




11 Day Douro River Cruise with Porto

11

Days

Gate1

First Class

Escorted
Porto
Porto
Portugal
$2,399View Tour

Best Price Guaranteed

Book With Flexibility

Art & Soul: Portugal By Design 2024

08

Days

Globus

First Class

Escorted
Lisbon
Porto
Portugal
$1,819View Tour

Best Price Guaranteed

Book With Flexibility

Iberian Discovery & Morocco 2024

40 reviews
13

Days

Globus

First Class

Escorted
Madrid
Madrid
Gibraltar, Morocco, Portugal, Spain
$2,789View Tour

Best Price Guaranteed

Book With Flexibility




Portugal in Depth 2023

510 reviews
11

Days

Globus

First Class

Escorted
Lisbon
Lisbon
Portugal
$2,419View Tour

Best Price Guaranteed

Book With Flexibility




Fátima, Lourdes & Shrines of Spain - Faith-Based Travel 2023

150 reviews
12

Days

Cosmos

Budget

Escorted
3 - Explorer

Lisbon
Barcelona
France, Portugal, Spain
$2,099View Tour

Best Price Guaranteed

Book With Flexibility




9 Day Douro River Cruise

6 reviews
09

Days

Gate1

First Class

River Cruise
1 - Light

Porto
Porto
Portugal, Spain
$1,999View Tour

Best Price Guaranteed

Book With Flexibility

Spain, Morocco and Portugal

328 reviews
16

Days

Trafalgar

First Class

Escorted
Madrid
Madrid
Morocco, Portugal, Spain
$2,965View Tour

Best Price Guaranteed

Book With Flexibility

Portuguese Escape 2024

308 reviews
09

Days

Globus

First Class

Escorted
Lisbon
Lisbon
Portugal
$1,449View Tour

Best Price Guaranteed

Book With Flexibility

Amazing Spain & Portugal - Classic Group, Winter

15 reviews
09

Days

Insight Vacations

First Class

Escorted
Madrid
Madrid
Portugal, Spain
$1,845View Tour

Best Price Guaranteed

Book With Flexibility

Portuguese Escape 2023

308 reviews
09

Days

Globus

First Class

Escorted
Lisbon
Lisbon
Portugal
$1,559View Tour

Best Price Guaranteed

Book With Flexibility

Best of Portugal

260 reviews
11

Days

Trafalgar

First Class

Escorted
Lisbon
Lisbon
Portugal
$2,975View Tour

Best Price Guaranteed

Book With Flexibility
Portugal Travel Guide
Portugal Tours Highlights
Experience Lisbon, Portugal's buzzing capital city, a picture-perfect sea of pastel buildings draped over seven hills.
Marvel at the enormous Praça do Comércio, one of the largest squares in Europe and entrance to the city of Lisbon.
Visit the UNESCO World Heritage-listed Sintra-Vila with historic palaces and villas folded into hillsides that roll down to meet the Atlantic.
Relax on the golden beaches of the Algarve surrounded by soaring cliffs, scalloped lagoons, and enchanting fishing villages.
Enjoy delicious Portuguese cuisine, heavily influenced by the Mediterranean, and famous for Atlantic-fresh seafood slathered in olive oil.
Admire the striking scenery of the Sagres Peninsula with its sea-carved cliffs towering over frothing ocean waves.
Delve into medieval history in the beautifully preserved city of Évora with its elaborate cathedral and picturesque town square.
Discover the cobbled alleyways and quaint plazas of Viseu, a charming city located in one of Portugal's top wine-producing regions.
Explore the maze of narrow cobbled streets in Porto, home to beautiful homes with colorful tiled facades.
Portugal Tours Travel Tips
Food and drinks in Portugal are excellent quality and very good value for money, so ditch the international brands and eat and drink like the locals. Fresh seafood is everywhere and local house wines are almost certain to be delicious.
Some of the roads can be in poor condition and inter-city rail routes are cheap but slow. The best way to explore Portugal is by luxury coach. Join a Portugal tour if you don't want to bother with booking transportation and accommodation in every town.
Many museums are free on one day of the week or the first Sunday of the month. Check the websites and try to time your visit to save some money.
The Lisbon Card and Porto Card offer tourists unlimited access to public transport, free admission to top attractions, and tons of other discounts and benefits.
It's always good to have some local currency on you (Euros) when you land in Portugal. However, there are ATMs at all international airports and in major tourist areas. Some smaller establishments do not accept cards, only cash.
Bring comfortable shoes or sandals with thick soles. After walking on cobblestone streets for a few hours, you'll understand why.
Most people in Portugal speak at least a bit of English, but it can't hurt to know a few greetings and phrases in Portuguese, such as Ola (hello), por favor (please), obrigado (thank you), sim (yes), and nao (no).
Portugal Tours Things To Do
Explore Lively Lisbon

Ancient cathedrals, cobbled alleyways, and historic monuments give Lisbon a unique character. But this vibrant city, set over a series of hills near the River Tagus, has a captivating contemporary vibe as well. Visit world-class museums, stroll on the riverside promenade, or discover hidden treasures in the narrow streets of the old quarter. With its strategic location at Europe's doorstep, fresh seafood is aplenty in Lisbon. And boy, does this city know how to party. Come nightfall and the narrow, cobbled streets transform into a merry drinking scene with everything from classy nightclubs to rowdy bars.

You Should Know

The VivaViagem card is a quick and easy way to use Lisbon's public transport system. It's good for travel on the metro, tram, bus, ferry, and funicular. The embedded chip makes it easy to pay for journeys, and it's cheaper than buying single fare tickets. Each person using public transport needs their own card.

Take a Day Trip to Sintra

Located just a short drive from the capital Lisbon, Sintra is a magical place of incredible natural beauty and historical significance. A scenic drive along the Atlantic coast will bring you to a spectacular mountainous landscape carpeted with ferns and lichen, sloping gently toward the Atlantic. The highlight of the region is the amazing palaces, including the beautifully preserved medieval palace, the Palacio Nacional de Sintra. Also unmissable is the vivid Palacio da Pena, perched atop a rocky peak with its turrets piercing the clouds.

You Should Know

Pack a picnic and enjoy it in the forested grounds and shaded woodlands of the 200-hectare Parque da Pena (Pena Park), which has a maze of romantic paths, lush fern gardens, and wonderful views of the palace. You can buy a combined ticket to the palace and gardens.

Catch Some Sun on The Algarve

It's a magnet for visitors, 4 million of whom come to the Algarve each year. This surfers' paradise on Portugal's southern coast is a tourist hotspot, jam-packed with resorts and vacation homes. Splashy water parks and a sizzling nightlife make the Algarve popular with families and couples alike. But if a crowded beach is not your thing, the protected islands and lagoons of the Parque Natural da Ria Formosa are a treasure-trove of natural beauty waiting to be explored. Venture into the hilly hinterland of the Algarve and you'll discover tranquil whitewashed villages, historic castles, and charming farmhouse restaurants amidst citrus orchards.

Best Time To Visit

The summer season in the Algarve is very busy. You're virtually guaranteed long, sunny days, but be prepared to spend some time looking for a spot on the beach. Winters in the Algarve are mild, so if you want to avoid the crowds and catch some winter sun, this could be a good time to visit. Average winter temperatures are in the 50s and 60s, and while it's not exactly beach weather, it's a great time for an active vacation (kayaking, hiking, golfing) which can be punishing in the summer heat.

Indulge in Delicious Portuguese Cuisine

Bacalhau, a dried, salted cod, is a staple of Portuguese cuisine and omnipresent on restaurant menus. You can eat it fried, baked, boiled, or grilled – you'll love the smoky, earthy flavors with a delicate zing of citrus. Other dishes worth trying include cataplana, a robust seafood stew made with whatever's fresh at the fish market that day. And if you have a sweet tooth, try the rich, eggy, custard tarts called pastel de nata, preferably at the shop in Belém that uses a centuries-old recipe to make them.

You Should Know

As soon as you sit down, your server will likely place a bread basket or some sort of "entradas" like a small plate of marinated olives on your table. Don't assume the appetizers are free. In Portugal, you will pay for everything. However, this should not add more than a couple of Euros to your bill. Otherwise, you can ask your server to take away anything you didn't order.

Go Wine Tasting in the Douro Valley

The wine industry in Portugal has undergone a quiet revolution and emerged from the shadows of its more famous neighbors, Spain, France, and Italy. Portugal today produces a wide variety of wines with distinctive personalities, grown in the two main wine-producing regions, the Douro Valley and Pico Island. A winery tour in Portugal is a treat for the senses, with magnificent views of vineyard-covered hillsides and a chance to taste some of the best Portuguese wines paired with artisanal cheese and chocolates.

You Should Know

Don't be intimidated if you're not a wine connoisseur. Everyone can enjoy the experience in Portugal's world-renowned wine country. The farm owners and guides are more than happy to answer your questions. Pro Tip: Don't try to cram too many wineries into your day. Wine tasting is fun when it's not rushed.

Marvel at the Castle of Tomar

Built by the Knights Templar, an organization of devout Christians, in the 12th-century, the Castle of Tomar is an imposing edifice that stands on top of a hill. Enclosed within its walls is the Convento de Cristo (Convent of Christ), a magnificent monument built over 500 years in diverging styles. Particularly arresting is the central rotunda, designed by the grandmaster Gualdim Pais and decorated with frescos depicting biblical scenes. Continue from Tomar to Fatima, one of the most important pilgrimage sites in the world where three shepherd children saw an apparition of the Virgin Mary in 1917.

You Should Know

Tomar is a pretty little town with a typically Portuguese laidback vibe. Walking around the narrow, cobbled walkways will make you feel like you've stepped back in time. Strike up a conversation with the friendly locals to learn more about their culture.

Visit the Magnificent Biblioteca Joanina in Coimbra

Named after King João V, the 18th-century baroque library, Biblioteca Joanina in Coimbra has an awe-inspiring central hall with elaborate ceiling frescos, decorated arches, massive rosewood and ebony tables, and two-storied gilded shelves that hold some 200,000 volumes on theology, philosophy, law, medicine, and geography, a collection dating back to the 16th-century. This grand national monument of priceless historical value is a sumptuous space that's well worth a visit.

You Should Know

The library is home to a colony of bats that protects the books from insects by eating them during the night.

Venture into the Idyllic Portuguese Countryside

Big cities like Lisbon and Porto have pulsating energy but venture away from the main tourist attractions and Portugal will reward you with charming coastal villages and enchanting hilltop towns brimming with history and culture. Get off the beaten path and head to the idyllic Portuguese countryside, where you'll discover whitewashed walled cities with ancient castles and historic lighthouses with sweeping views of the Atlantic.

You Should Know

You can do day trips to the countryside from larger cities. For example, visit Aveiro, just 75 km from Porto; or Tavira, 30 km from Faro; or Nazare, which is a two-hour bus ride from Lisbon.
Portugal Tour Packages
Portugal has a Mediterranean climate, with cooler temperatures to the north and dry and warm temperatures in southern regions.
Summer - June to August

Summer is the hottest, busiest, and most expensive season to visit Portugal. Lisbon and the beaches of the Algarve, in particular, can get very busy during these months. The shoulder months of June and September are better bets because the weather, although still hot, is not unbearably so, and there are fewer crowds.

September to October

Autumn is a great time to visit Portugal with water temperatures still warm at around 21C and plenty of sunshine. This is also the perfect time to visit the Douro vineyards where some estates will let you join the harvesting and grape-stomping activities.

Winter - December to February

If you're looking for a quiet holiday with mild weather, a winter Portugal tour might be just right for you. There's still a good amount of sun, but it can get chilly and rainy. Some of the beach resorts wind down for the season. However, winter is a great time to explore inland or enjoy a city break in Portugal.

Spring - March to May

Spring in Portugal has mild temperatures (warm but not scorching hot), verdant landscapes, thinner crowds, and easier availability of accommodation. This weather is ideal for active holidays like hiking and other outdoor activities.
Portugal Tours Frequently Asked Questions
How do I join a Portugal tour from the US?

There are direct flights from Newark Liberty International Airport (EWR) and John F. Kennedy International Airport (JFK) to Lisbon Portela Airport (LIS). Most Portugal tours start and end in Lisbon, making it easy for you to join the group.

What's included on a Portugal tour?

The price of your Portugal tour includes accommodation in comfortable hotels, all transportation, many meals, and guided sightseeing and activities. Your tour director will be on hand to answer questions and ensure your safety and comfort. You'll also enjoy the company of like-minded travelers.

How much time do I need to see Portugal in-depth?

If you're headed only to Portugal, we suggest 10-12 days to experience the country's amazing diversity. If you're joining a combined Spain, Morocco, and Portugal tour, then we recommend a 15-17 days' vacation.

How much do Portugal tours cost?

Portugal tours start at around $175 per person per day. We offer personalized services to help you find the Portugal vacation of your dreams at an unbeatable price. Call us today to save money with our biggest discounts on Portugal tours.
Learn More About Portugal Tours

Top 5 Destinations For Adult Solo Travelers

Adult travelers know how they prefer to see the world. They want to spend a little longer in intriguing destinations, focus on the history, culture and locals of the city, and require an emphasis on comfort and stress free planning.
Reviews for Portugal Tours and Vacations
The tour of Portugal met or exceeded my expectations and the tour director and drivers were amazing.
Kevin M
The Tour Director was professional, detailed and knowledgeable. We were well guided and oriented on what to expect to the places that where going to.
Roda B
It was a wonderful trip in every sense of the word. Everything worked perfectly. It was an amazing experience.
Paul N
Departure
Lengths
Styles
Specialities
Price
How It Works
Vacationing has never been easier or cheaper with the help of a dedicated travel consultant from AffordableTours.com
1. Free Quote
Find your perfect trip on our website and simply request a free quote. Need to speak to a live person? Call us 7 days a week at 1-800-935-2620. No robots here!
2. Dedicated Travel Consultant
Your personal travel consultant will reach out and be your point of contact for your entire travel experience from start to finish. Did we mention you'll be working with an award winning team? Sweet!
3. Lowest Price Guaranteed
Because we're one of the largest sellers of travel, we're able to give you a discount on your vacation package. No one beats our prices!
4. Stress Free Travel
Knowing you got the best deal, all that's left is for you to pack your bags and enjoy your vacation!