England Tours & Vacation Packages 2023/2024
Save up to 40% on England Tours & Vacation Packages 2023/2024
England Travel Guide
For a relatively small country, there is a lot to see in England. From royal buildings and world famous artwork to architectural sites and buzzing cities, England is full of must see landmarks. Add Stonehenge, Big Ben, Westminster Abbey and Buckingham Palace to your list to visit. England also has a wide array of museums such as The Natural History Museum, the British Museum, the National Gallery in Trafalgar Square and the National Railway Museum in York. As a large-scale seller of England tours and England vacations, we are able to save our travelers up to 40% off. Which means you can experience more events like Changing of the Guard, more natural beauty in the Lake District, and more famous landmarks like Tower Bridge. When our travelers book their England tours with us, they will experience unbeatable low prices and our award-winning customer service. With tour operator volume buys plus our low everyday prices you can save up to 40% versus assembling the same itinerary on your own! Book your England tour today with AffordableTours.com, your discounted tour headquarters. View England Tour Deals and Discounts
England Travel Guide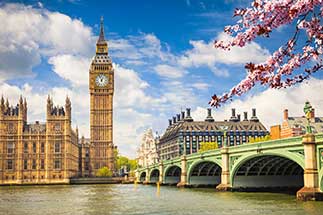 Showing 1 - 20 Tours
Tour Itinerary
Days
Operator
Quality
Style
Starts
Ends
Price



Seven Countries, Venice & Paris 2023

110 reviews
10

Days

Cosmos

Budget

Escorted
3 - Explorer

London
Paris
Austria, Belgium, England, France, Germany, Italy, Switzerland
$1,959View Tour

Best Price Guaranteed

Book With Flexibility




Irish Discovery 2023

190 reviews
09

Days

Cosmos

Budget

Escorted
3 - Explorer

Dublin
Dublin
England, Ireland
$1,649View Tour

Best Price Guaranteed

Book With Flexibility

London to Rome Highlights

54 reviews
10

Days

Costsaver

Budget

Escorted
London
Rome
England, France, Italy, Switzerland
$1,885View Tour

Best Price Guaranteed

Book With Flexibility

Amazing Britain

48 reviews
10

Days

Trafalgar

First Class

Escorted
London
London
England, Scotland
$2,018View Tour

Best Price Guaranteed

Book With Flexibility

European Whirl End Paris

16 reviews
14

Days

Trafalgar

First Class

Escorted
London
Paris
Austria, Belgium, England, France, Germany, Italy, Netherlands, Switzerland
$3,775View Tour

Best Price Guaranteed

Book With Flexibility




Introduction to Ireland 2023

292 reviews
07

Days

Globus

First Class

Escorted
Dublin
Dublin
England, Ireland
$1,899View Tour

Best Price Guaranteed

Book With Flexibility




Essential Britain & Ireland 2023

314 reviews
10

Days

Globus

First Class

Escorted
3 - Explorer

London
London
England, Ireland, North Ireland, Scotland, Wales
$2,749View Tour

Best Price Guaranteed

Book With Flexibility




London & Paris 2023

120 reviews
07

Days

Globus

First Class

Guided/Hosted
London
Paris
England, France
$2,419View Tour

Best Price Guaranteed

Book With Flexibility

Britain and Ireland Delight

170 reviews
10

Days

Costsaver

Budget

Escorted
London
London
England, Ireland, North Ireland, Scotland, Wales
$1,725View Tour

Best Price Guaranteed

Book With Flexibility




Celtic Highlights 2023

204 reviews
13

Days

Globus

First Class

Escorted
3 - Explorer

Glasgow
Glasgow
England, Ireland, North Ireland, Scotland, Wales
$3,299View Tour

Best Price Guaranteed

Book With Flexibility




Seven Countries, Venice & Paris with London 2023

11

Days

Cosmos

Budget

Escorted
3 - Explorer

London
London
Austria, Belgium, England, France, Germany, Italy, Switzerland
$2,249View Tour

Best Price Guaranteed

Book With Flexibility




European Sampler 2023

96 reviews
09

Days

Globus

First Class

Escorted
Amsterdam
Paris
England, France, Germany, Netherlands, Switzerland
$2,929View Tour

Best Price Guaranteed

Book With Flexibility




Britain Sampler 2023

326 reviews
09

Days

Globus

First Class

Escorted
3 - Explorer

London
London
England, Scotland, Wales
$1,949View Tour

Best Price Guaranteed

Book With Flexibility




10 Day Classic Amsterdam, Bruges, Paris & London - Sunday Departure

8 reviews
10

Days

Gate1

First Class

Escorted
Amsterdam
London
Belgium, England, France, Netherlands
$2,299View Tour

Best Price Guaranteed

Book With Flexibility

London and Paris Explorer

16 reviews
09

Days

Trafalgar

First Class

Escorted
2 - Classic

5+ years old
50
London
Paris
England, France
$3,037View Tour

Best Price Guaranteed

Book With Flexibility

Independent London, Paris & Amsterdam City Stay 2023

09

Days

Globus

First Class

Independent
8+ years old
London
Amsterdam
England, France, Netherlands
$1,599View Tour

Best Price Guaranteed

Book With Flexibility




European Sampler with London 2023

11

Days

Globus

First Class

Escorted
2 - Classic

8+ years old
44
Amsterdam
London
England, France, Germany, Netherlands, Switzerland
$3,549View Tour

Best Price Guaranteed

Book With Flexibility




European Highlights 2023

54 reviews
09

Days

Globus

First Class

Escorted
2 - Classic

London
Rome
England, France, Italy, Switzerland
$2,899View Tour

Best Price Guaranteed

Book With Flexibility

Britain and Ireland Explorer

16 reviews
19

Days

Costsaver

Budget

Escorted
London
London
England, Ireland, Scotland, Wales
$2,501View Tour

Best Price Guaranteed

Book With Flexibility




Essential Britain 2023

182 reviews
12

Days

Globus

First Class

Escorted
2 - Classic

24
London
London
England, Scotland, Wales
$2,859View Tour

Best Price Guaranteed

Book With Flexibility
England Travel Guide
England Tours Highlights
Go royal spotting at Buckingham Palace.
Listen to Big Ben ring at the House of Parliament.
Take to the skies in the London Eye.
See the city aboard a classic double-decker bus.
Enjoy a cruise down the River Thames.
Wonder at Stonehenge.
Find your creative inspiration at the Lake District.
Enjoy High Tea.
Take a bath at the Roman baths.
See the iconic Westminster Abbey.
England Tours Travel Tips
The UK uses British Pounds as their currency – don't make the mistake of exchanging for Euros.
England can be expensive, but if you're on an escorted tour with one of our partners, all you have to worry about is spending money and some meals. Hotels, some sightseeing, and transportation have been taken care of!
The smaller cities like Oxford, Lancaster, Cornwall, Chester, or Bath are just as interesting as London.
Some of the best museums in the world are in England and all public museums are free.
A lot of cathedrals in England are also free.
If you're doing activities not included in your tour, book your tickets early.
England Tours Things To Do
See Changing of the Guards at Buckingham Palace

Headquarters and London residence of the monarchy, Buckingham Palace, has been a focal point for the British people. The Palace serves as a backdrop for the regular Changing the Guard Ceremony which is a colorful spectacle of British pageantry.

Best Time To Visit

For 10 weeks each summer and select dates in the winter and spring, visitors are welcomed to tour the 19 State Rooms open to the public, including the Throne Room which is used by The Queen for court ceremonies and official entertaining. Changing the Guard is weather permitting and takes place at 11 am daily during the summer and Monday, Wednesday, Friday and Sunday during the rest of the year.

You Should Know

To see Changing the Guard, arrive at Buckingham Palace early to save your spot. St. James's Palace and the Wellington Barracks are also one of the best places to watch Changing the Guard. Please note, there is a new Changing the Guard schedule updated every month and it is advised to re-check the timing closer to your trip.

Learn About History at Westminster Abbey

One of the United Kingdom's most notable religious buildings, this large mainly Gothic abbey church was the traditional burial site for English and, later, British monarchs and royal weddings. Founded in 960AD, with the current building over 700 years old, the Abbey is steeped in British history. Over 3,000 famous people are buried in the Abbey, including Stephen Hawking, Nelson Mandela, and Jane Austen.

Best Time To Visit

Westminster Abbey welcomes over a million visitors each year and is open 7 days a week. Please keep in mind since it is a working church, some areas might be closed off to the public. Be sure to check for a full list of general opening times. The Abbey has gardens that have been cultivated for 900 years and are the perfect place to visit from Tuesday to Thursday.

You Should Know

Westminster Abby has a gift shop and café to grab a snack, meal, or traditional afternoon tea. Photography is not permitted inside Westminster Abbey. If you would like to take photos, you can in the Cloisters, Chapter House, and College Garden. Appropriate clothing is appreciated, including removing hats while inside. During the winter, it can be chilly inside the Abbey so dress warmly.

Take a Stroll in Hyde Park

Located in Central London, Hyde Park is the largest of the four Royal Parks surrounding Buckingham Palace. Hyde Park got its start in 1536 when King Henry VIII seized the manor and turned it into a vast hunting park. Through the years, a few updates changed the look of the park. Charles I created a circular track called the ring where members of the royal court could drive their carriages. After William and Mary became king and queen, they added a processional route that was lit by 300 oil lamps. This was the first road in England to be lit at night. More recently, a memorial fountain dedicated to Princess Diana was added.

Best Time To Visit

Since the park is completely outdoors, it's best to visit when the weather is warmer. The park also hosts lots of educational and well-being events so be sure to check the calendar for interesting gatherings. Hyde Park is family-friendly and even has playgrounds for little ones to play and explore.

Sail Down the River Thames

The River Thames runs from Cotswold through London and into the North Sea. It is part of the longest river in England, has 45 locks, and is home to over 25 species of fish. There are a wide variety of cruises available that explore the River Thames. Evening cruises to see the city at sunset, dinner cruises to dine with a fine background, and hop-on/hop-off cruises so you can take advantage of the cruise at any time of day.

Best Time To Visit

London is beautiful at any time of the day, but the city really sparkles when the sun is setting. Watching to sunset behind the buildings and seeing the lights of the London Eye, and the many towns and churches twinkle over the city is stunning and romantic. Grab dinner at a local restaurant at the end of your cruise to end a fun night in the town.

Marvel at Stonehenge

This prehistoric monument in Wiltshire is regarded as a British cultural icon. The ring of stones is about 13 feet high and is believed to have been constructed in 3000 BC to 2000 BC. There have been many theories on why Neolithic and Bronze Age people put so much effort into building it, but no one knows for sure.

Best Time To Visit

The busiest season for visitors is in the summer months of July to September. In the spring and autumn, it will still be sunny and warmer than the winter months. Since this is such a popular destination, visitors should arrive before 9:30 am if you are trying to avoid crowds. Many people prefer going right before closing time in order to catch the sun dropping behind the stones.

Spend Time in the British Museum

Dating back to 1753, the British Museum has artifacts spanning over 2 million years. They have a unique collection of world-famous objects, namely, the Rosetta Stone, Egyptian mummies, and Parthenon sculptures. Along with their permanent exhibits, they also have special exhibitions and displays that are only available for viewing for a short time.

Best Time To Visit

The British Museums is open from 10 am to 5:30 pm. If you can't get there right when it opens, go later in the afternoon, closer to closing time. Don't save the Museum for a rainy day, it is usually more crowded when the weather is bad. If a temporary exhibit is close to ending, the Museum will be more crowded.

You Should Know

The British Museum is free for everyone. You will need to go through a security checkpoint and large luggage is not permitted. Check out the big sights before wandering around. The Museum is huge and you could spend all day there. Go see what interests you first, then explore. Most people head to the Rosetta Stone right when they go through the doors. You don't have to spend your whole day at the Museum, you can pop in and out and spread your visit over the series of a few late afternoons or early mornings.

Tour the Roman Baths

The Roman baths, in Bath, England are one of the most well preserved religious spas of the ancient world. The water at the Baths still flows with natural hot water. The Baths, which were used for public bathing and socializing, were used until the end of Roman rule in Britain in the 5th Century.

Best Time To Visit

The Roman Baths are open every day except Christmas day and December 26. March through October, the Baths open at 9 am. They are open late during mid-June, July, and August. The evenings are relatively quiet, especially on the late nights. The Great Bath is lit by torches, which makes for an impressive atmosphere. The summer months are the busiest, as well as the weekends.

You Should Know

Every town used to have its own bath complex, it is essentially a large and luxurious swimming pool. Unfortunately, visitors can't take a dip in the water. If you're peckish, the Baths have a restaurant bistro and afternoon tea.

Explore World Famous Art at the National Gallery

Located in Trafalgar Square in London, this art museum was founded in 1824 and houses over 2,000 paintings dating all the back from the 13 th century. Visitors can expect to see world-famous artists like Rembrandt, van Gogh, Monet, Michelangelo, da Vinci, and more.

Best Time To Visit

The quietest time to visit is usually in the early morning. The Gallery is open late on Friday nights and is also a good option. Tuesdays and Wednesdays are the calmest days, while all of August is the busiest. If the weather is nice out, it might be a good time to explore the Gallery. It is open on bank and public holidays, except Christmas Eve, Christmas Day, Boxing Day, and New Year.

You Should Know

Admission to the National Gallery is free, but some exhibitions and events are ticketed. You can take pictures in the Gallery for non-commercial use, but be on the lookout for signs that say No Photography. If you want to see the best-known Impressionists and van Goghs, head to rooms 45 and 46 right when you arrive. The Gallery has three entrances, circle the building if the line gets long to see if there a shorter wait time. If you want to start in chronological order, start at the Sainsbury entrance.

Learn About the Royals at Kensington Palace

Located in London on the edge of Hyde Park, Kensington Palace has been the residence of the British Royal family since the 17 th century. The States Rooms are open to the public where they display many paintings and other objects from the Royal Collection. On the outside, the Palace looks like a red brick mansion, but on the inside, it is filled with intricate ceiling paintings, opulent rooms, and gold leaf trims.

Best Time To Visit

After lunchtime is usually when most of the crow thin out of the Palace. Tour the Sunken Garden from April to October when the flowers are blooming. Diana's Fashion Story is a popular exhibit, so if there is a long line, go upstairs to the Queen's State Apartment first. Please note, the visitors that enjoy the Palace the most are the ones who are interested in England's royal history.

You Should Know

Kensington Palace is the birthplace of Queen Victoria. You can visit the rooms where she was born and raised. Also, a children's playground was opened in memory of Princess Diana which welcomes more than a million visitors each year.

Watch a Play at Shakespeare's Globe

This reconstructed Elizabethan playhouse is where William Shakespeare wrote his plays. Located in Southwark, outside of London, the original theater was built in 1599 but was destroyed in a fire in 1613. It was rebuilt 200 meters from the original Globe. This world-renowned performing arts venue and cultural attraction still puts on plays year-round.

Best Time To Visit

The busiest months are from March until the end of August. The mornings and winter months are the least busy. The Globe Theater holds productions from mid-April to mid-October. The Sam Wanamaker Playhouse theatre runs from October to April. There are always other events taking place throughout the year. The Globe Theater is open-air, so please dress appropriately for the weather.

You Should Know

The Sam Wanamaker Playhouse is an indoor Jacobean-style playhouse and is temperature-controlled. Children and families are very welcomed at the Globe. A ticket is required for everyone 3 and up.
England Tour Packages
Want to know the best time to visit England? Thankfully, England is pretty temperate and is enjoyable at any time of the year. With no extreme weather to worry about, you won't have to plan around the weather too much.
Summer has the nicest weather but is peak season.
Spring and Fall are beautiful times to visit but be prepared to see a bit more rain.
Winter is low season and the crowds will definitely be thin.
Summer – June to August – High Season

During the summer, the average high is 69F and the average low is 53F. It's mostly dry and you'll find nice weather around England but also large crowds as this is the peak season for tourism. Attractions may be crowded but the atmosphere will seem almost festive.

Spring – March to May & Fall – September to November – Good Season

During Spring & Fall time, temperatures are similar to the average high of 52F and the average low of 42F. Although still dry time, it does rain more often than compared to Summertime. There are still crowds but not as much as during the Summer. It's also nice during this time as the leaves may still be changing colors and are very beautiful to gaze upon.

Winter – December to February – Low Season

During the winter, the average high is 47F and the average low is 37F. If all you care about is it not being crowded, this is the time to come. However, during the winter, it's typically the wettest time with unpredictable rain.
England Tours Frequently Asked Questions
Learn More About England Tours
Reviews for England Tours and Vacations
Our tour guide was great, though sometimes due to the winter hours, many places were closed so she worked hard to find alternate places for us to stop and visit. She did a great job.
Deborah G
We enjoyed our trip tremendously and are glad we went. We saw much more than we would have seen on our own.
Estelle C
The 10 day Gate 1 trip to England and Scotland was quite an experience! Our tour guide was WONDERFUL! She really took the trip to a higher level with her personal stories and thoughtfulness throughout the 10 days. She made sure that we were all cared for and even did sweet things for us on Thanksgiving like putting little American flags on the bus to celebrate our holiday which is not celebrated in England. Our bus driver was superb! He kept us safe and on point for each destination. Be sure to book this tour. You will learn much and really experience the life of a local. Great food and great hotels.
Angela G
Attractions
Departure
Lengths
Styles
Specialities
Price
How It Works
Vacationing has never been easier or cheaper with the help of a dedicated travel consultant from AffordableTours.com
1. Free Quote
Find your perfect trip on our website and simply request a free quote. Need to speak to a live person? Call us 7 days a week at 1-800-935-2620. No robots here!
2. Dedicated Travel Consultant
Your personal travel consultant will reach out and be your point of contact for your entire travel experience from start to finish. Did we mention you'll be working with an award winning team? Sweet!
3. Lowest Price Guaranteed
Because we're one of the largest sellers of travel, we're able to give you a discount on your vacation package. No one beats our prices!
4. Stress Free Travel
Knowing you got the best deal, all that's left is for you to pack your bags and enjoy your vacation!